Lido Referral Program - 1st Period Review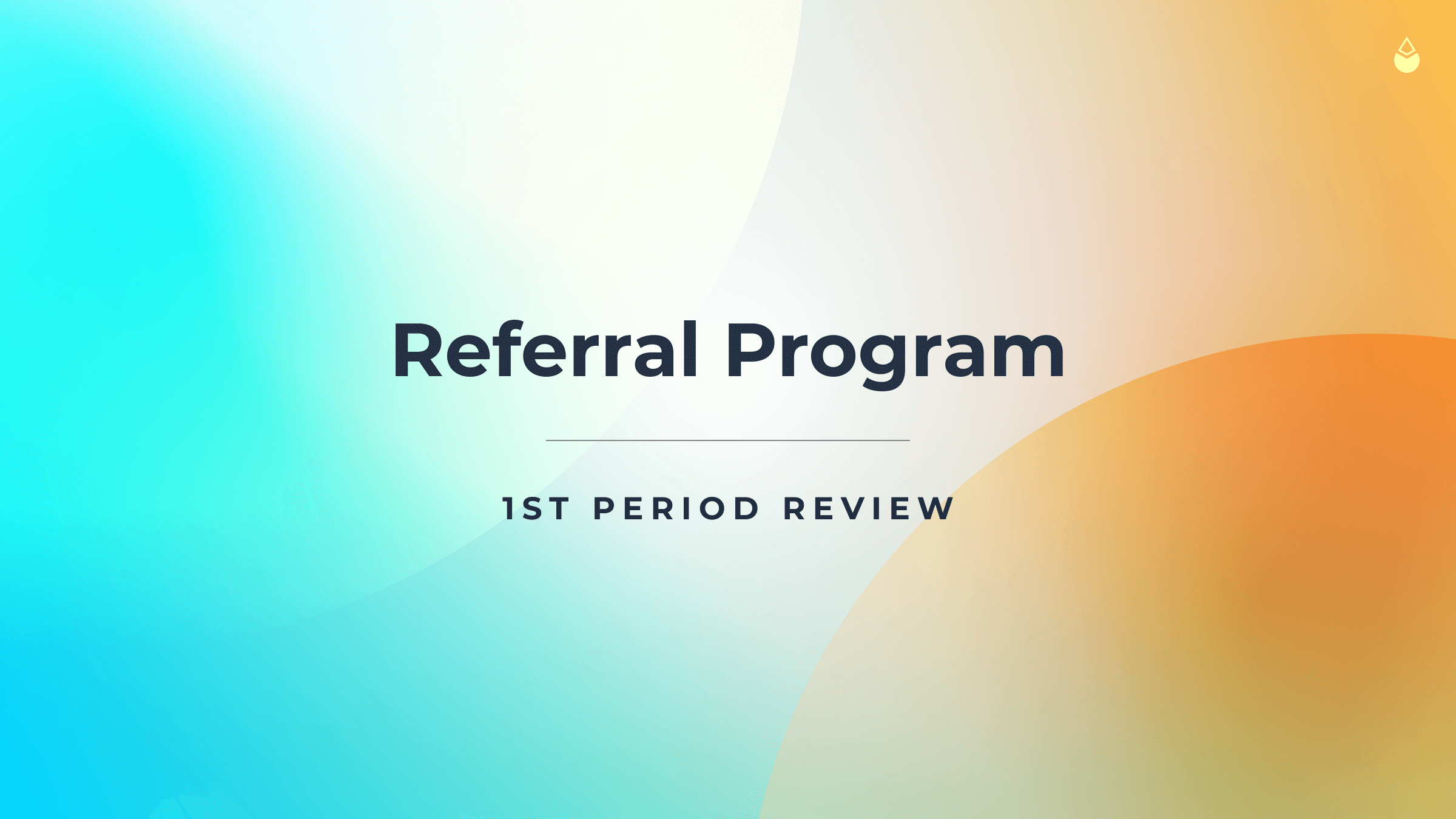 We are excited to share the results of the first two weeks of Lido's referral program.
The referral program was launched on July 19th 2021 (see blog post) and the first payout week starts on the 3rd. Referral rewards for this period are now available to be claimed via DeversiFi.
Key Numbers
The staked amount approved - 24,764.35017 ETH.
Total reward amount  - 347,679.0024 LDO.
Rewards withheld (abuse cases) - 26,055.5 LDO.
Abuse Cases
For the first two weeks of the referral program, there were two types of staking that Lido did not include in the referral reward:
Cycle staking;
Removing liquidity from staking pool;
In the future, Lido reserves the right to exclude other types of staking attempts that we feel abuse the referral system.
1. Cycle staking
As was mentioned initially - cycle staking will be filtered out. Cycle staking is when a user sends ETH through Lido using a referral link, only to sell their stETH later for more ETH in order to repeat the whole process again. Staked ETH can not be used to get rewards again and again, and again...
Here are some examples of such transactions:
During the 1st period the address 0x5f0d6e56314df6fa0b0e0233423d795460bd8802 (referral 0xea23c259b637f72d80697d4a4d1302df9f64530b) staked (0x894106af37b295a5d74d94fde69f3521ea094d1ca890e60de1da8b17a7279068, 0x5910a1031efc40abb91aab2f8db614b2633e0df53e5eb5551fffdbc1d078c06c, 0xa33e069890587d8079b25f8d873c930502f742206077cb9af33f402e8f3a6cef) and exchanged 100 ETH 3 times. And as we can see, he/she is continuing doing so also in the next period.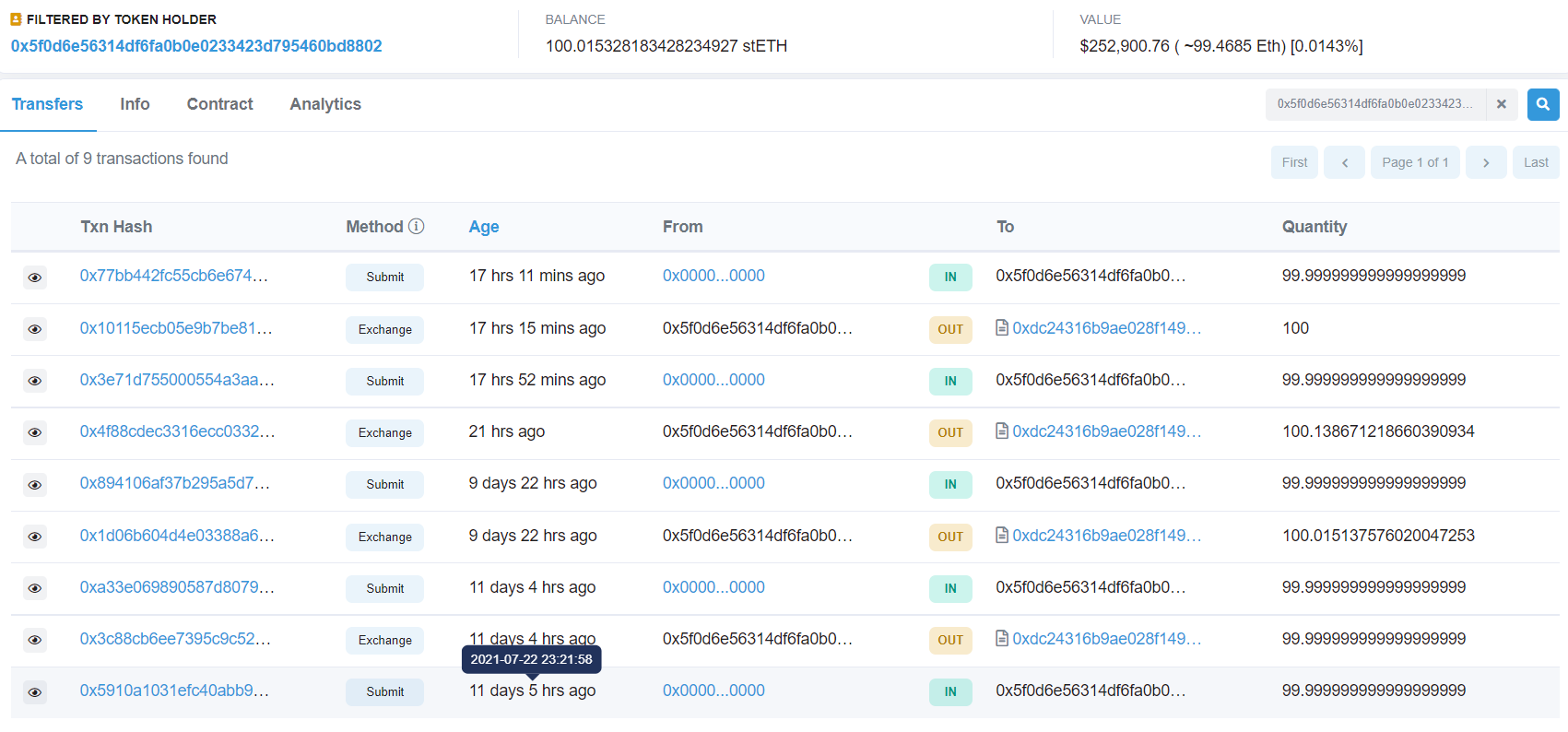 Source: etherscan.io
There are some other examples:
Sender: 0x07a1f6fc89223c5ebd4e4ddae89ac97629856a0f / Referral: 0x8d5f05270da470e015b67ab5042bdbe2d2fefb48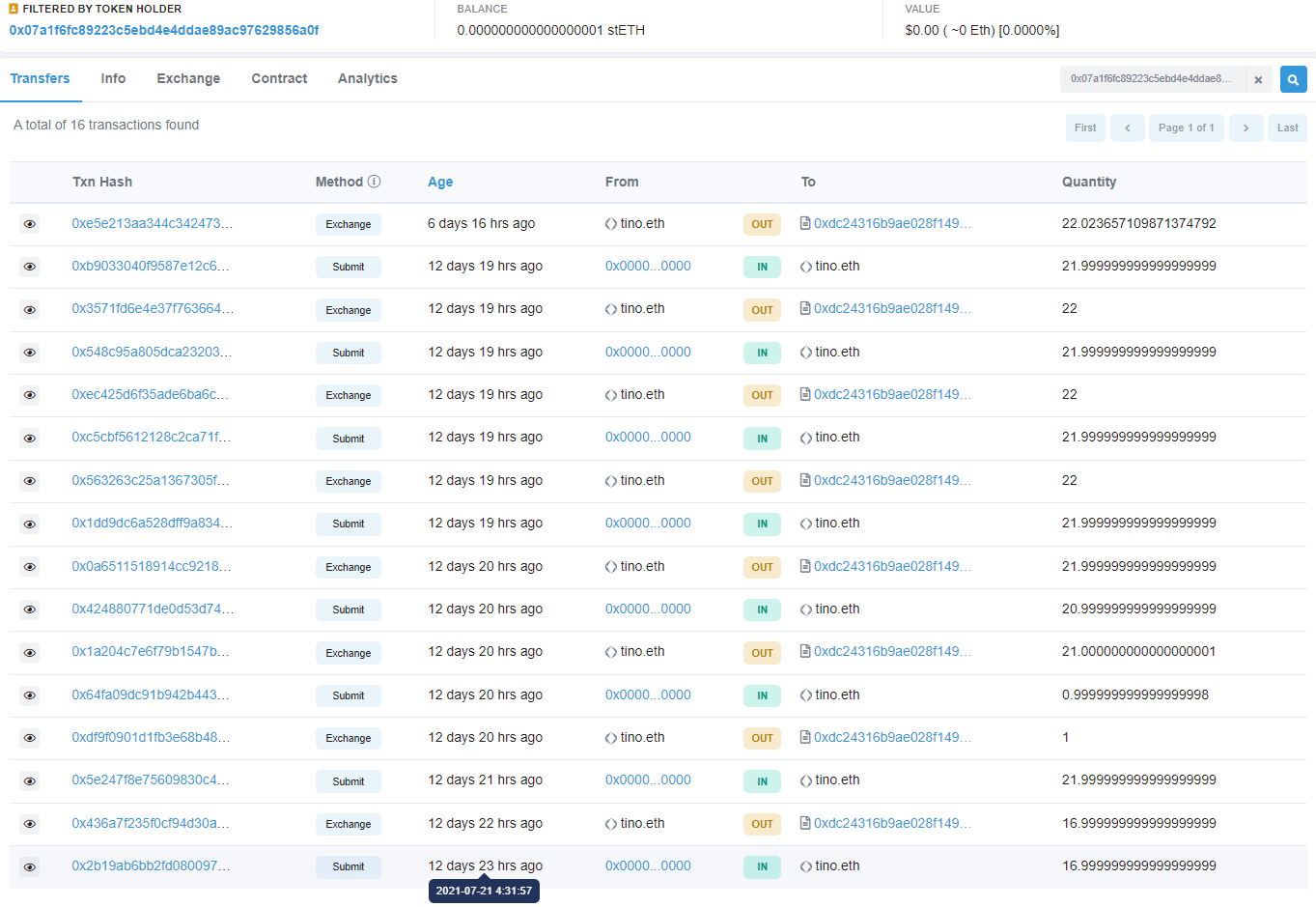 Source: etherscan.io
Sender: 0xfc220fb83314b4b1e00421777cb579a68f17c439 / Referral: 0x82777afe3872d4587b18554692df045872b1ab10

Source: etherscan.io
Sender: 0x35272b85758a8fb0fa3f904839b9d92ce656393a / Referral: 0x3d68577384cad1a1d9dc6ad12e8091879347f32f

Source: etherscan.io
Sender: 0x185208150d6686cfa17ca42059147349f11842ac / Referral: 0x3020308448f7f1ffec5018a45158d49451355b28

Source: etherscan.io
More sophisticated cycling transactions were found in the case of 2 referrals.
Cases of cycling transactions
At first, some transactions seemed normal, until we checked the ETH origin.
Ether had come from 0x926F974a623c51CAc02c7f5C178Dc6d2F431C23D (Address 0) via several transactions to 2 different senders (Addresses 1 and 2) that staked ETH for stETH under 2 different referrals (Referrals 1 and 2).
We traced the whole chain of transactions:
Brief history of transactions: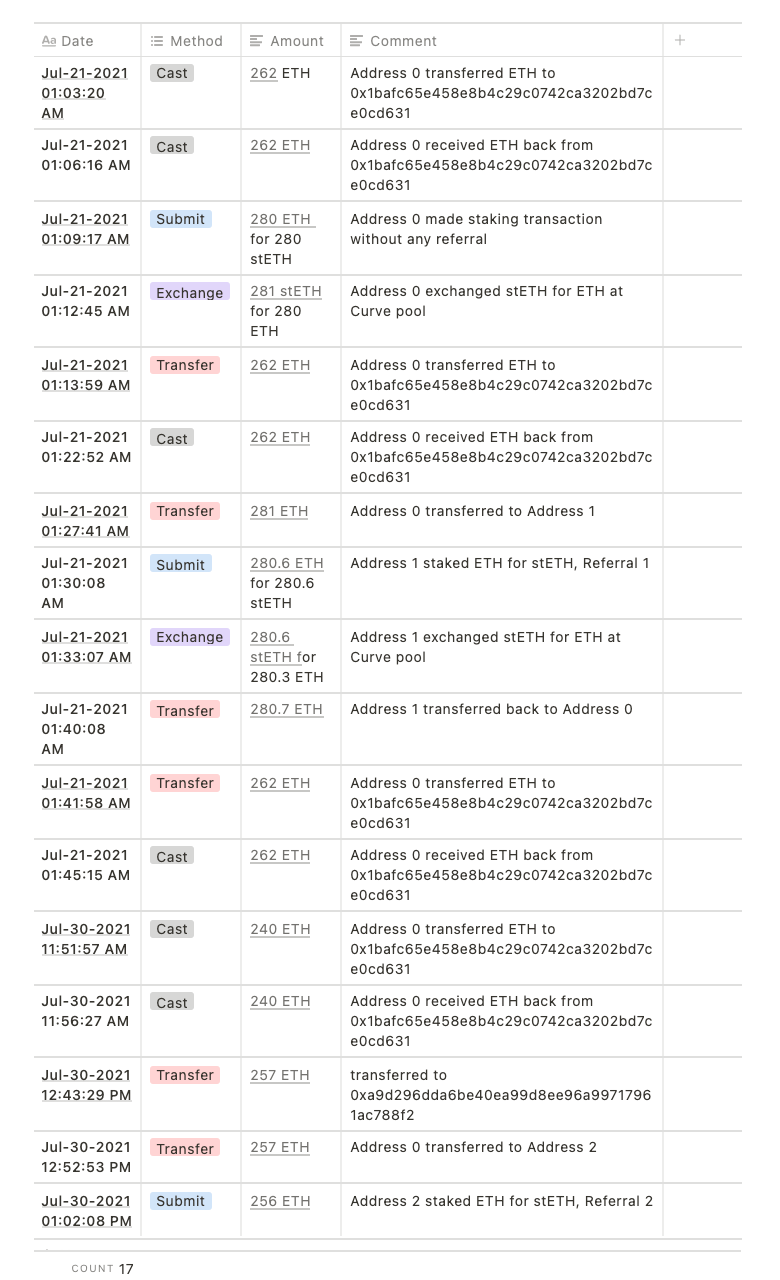 Finally, we found some cycling transactions that INCLUDED one staking transaction done without a referral, only to exchange stETH afterwards to be restaked under a referral.
For example, the address 0x4061db5d35ec56da1d19ad8322e3ddef8b908a18 (referral 0xa2b6c41df96a3565b3e675a61e59a849a9af608a) had staked 95 ETH without referral link, immediately exchanged them and staked again with the referral link.
Even if it was done by accident, it is a cycling transaction.
2. Removing liquidity from staking pool
The stETH/ETH pool on Curve is the biggest pool in DeFi. Withdrawing ETH from the Curve pool is not going to be rewarded (as it's not helping to grow TVL).
As it was not announced explicitly, such cases of taking away staked liquidity from Curve were still rewarded with 50% of their referral rewards (for staking ETH).
Such cases of removing liquidity from stETH/ETH pools are not going to be rewarded moving forward.
Here is one example in detail:

Address that staked ether: 0x2138e4b8d159b112b4f5c0fb64f6635f9af57556
Ether came from withdrawing ETH from Curve ETH/stETH pool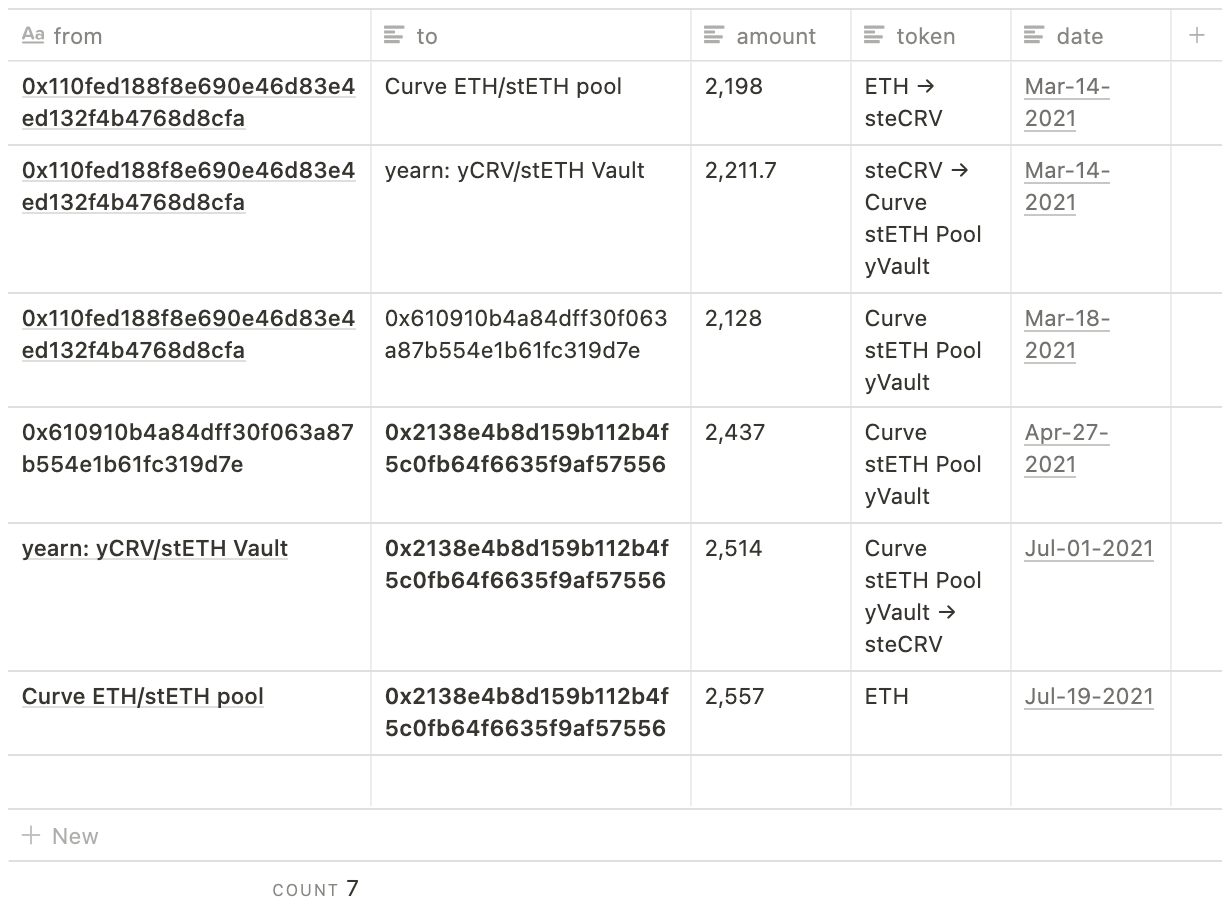 Top Referrals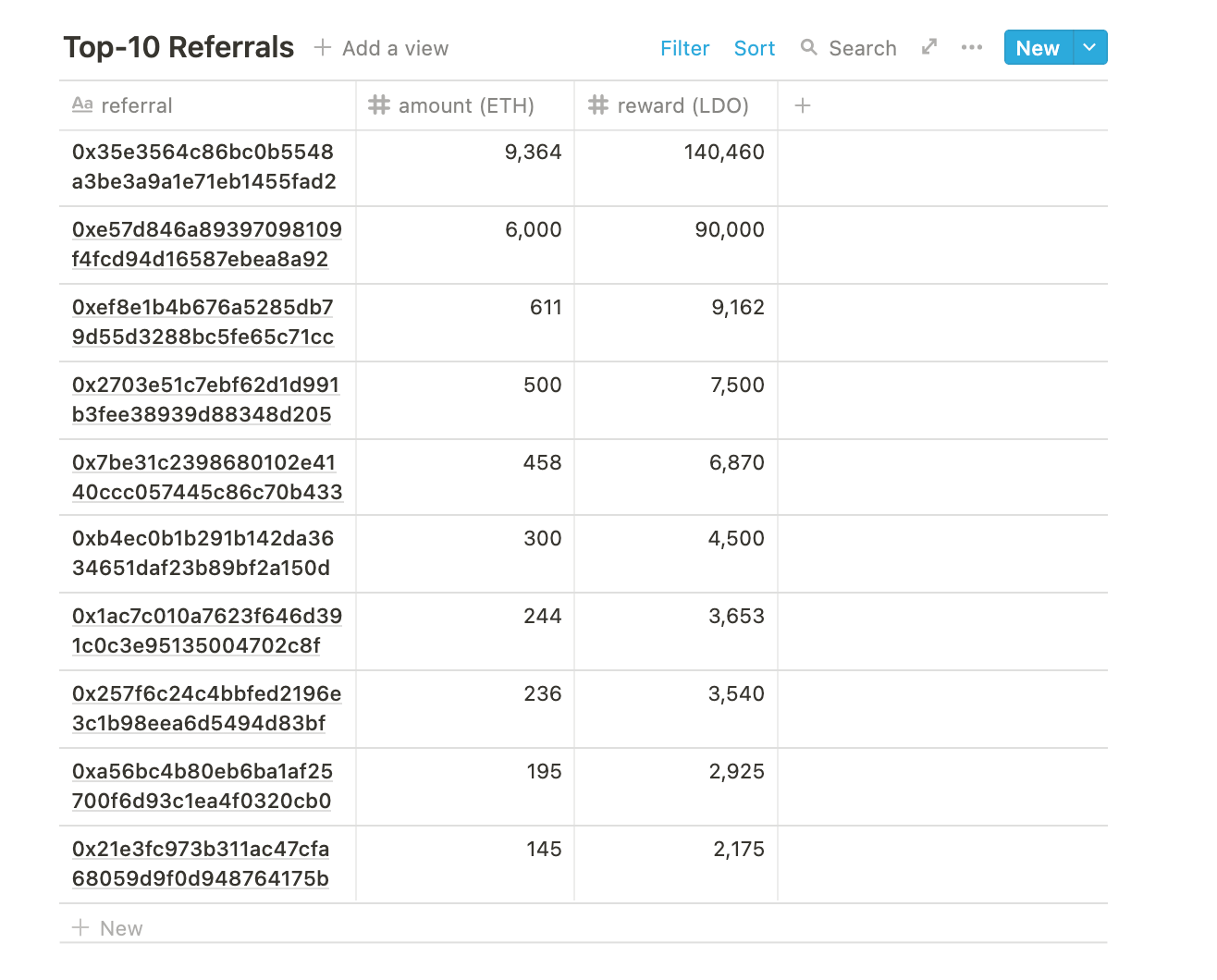 Summary
The first two-week period of the referral program showed that it works well and will be continued. We are going to be monitoring the referral program for abusive behavior. The Lido referral program could be very useful to wallet providers and services.
The LDO rewards could give them additional revenue from referral bonuses and their users would earn staking rewards from converting their ETH to stETH. Additionally, Lido would continue growing its total value locked and providing Ethereum users with a decentralized alternative to staking with an exchange.