Lido Monthly Report: September 2023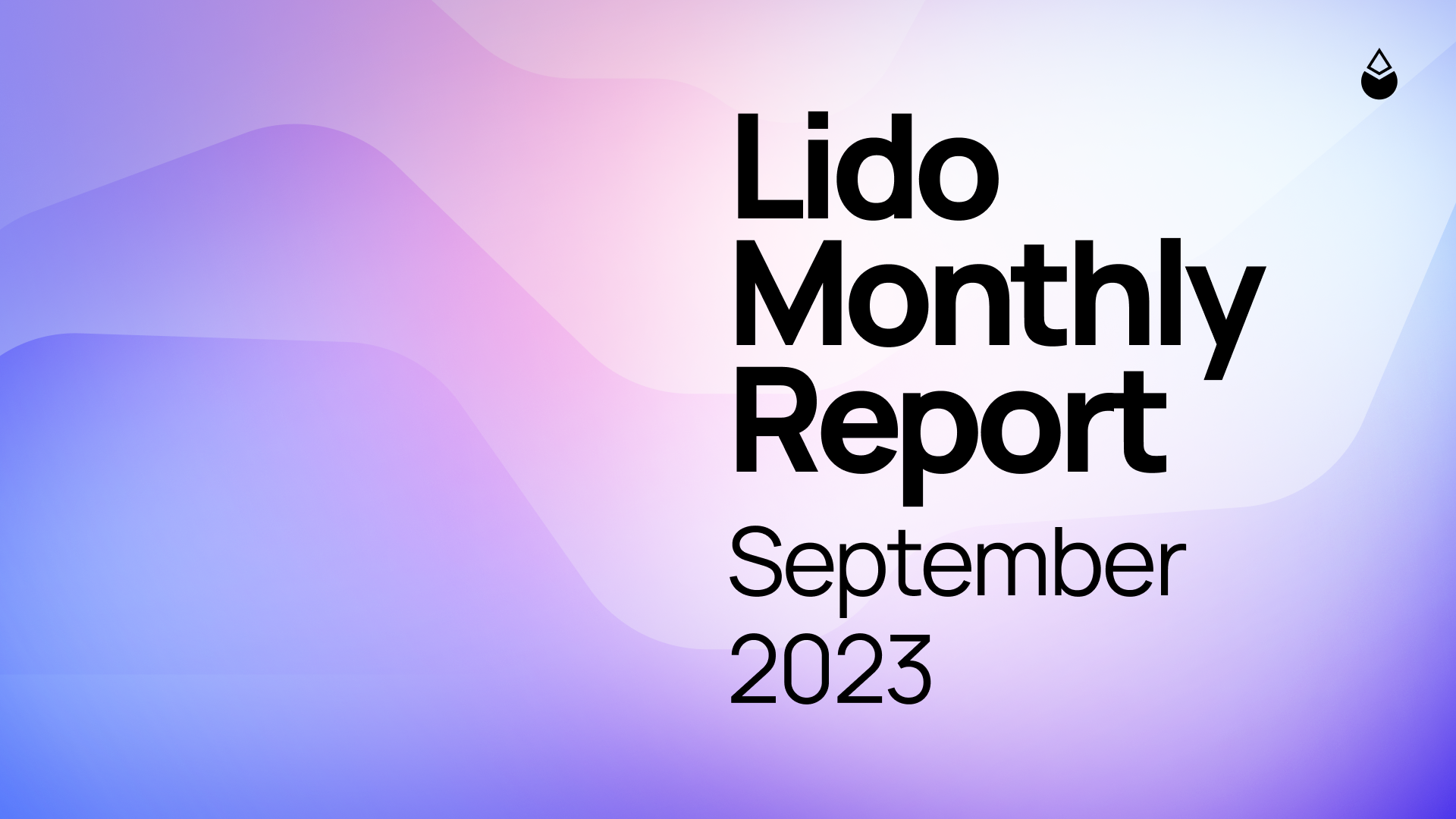 Welcome to the September edition of the Lido Monthly Report, a comprehensive source for insights into all of the latest developments. This report reviews another month of noteworthy metrics, new collaborations, and ongoing developments that highlight the overall performance and progress of the Lido protocols.
---
Protocol Performance
In this section, you will find key metrics that offer valuable insights into the overall performance of the protocols over the month of September.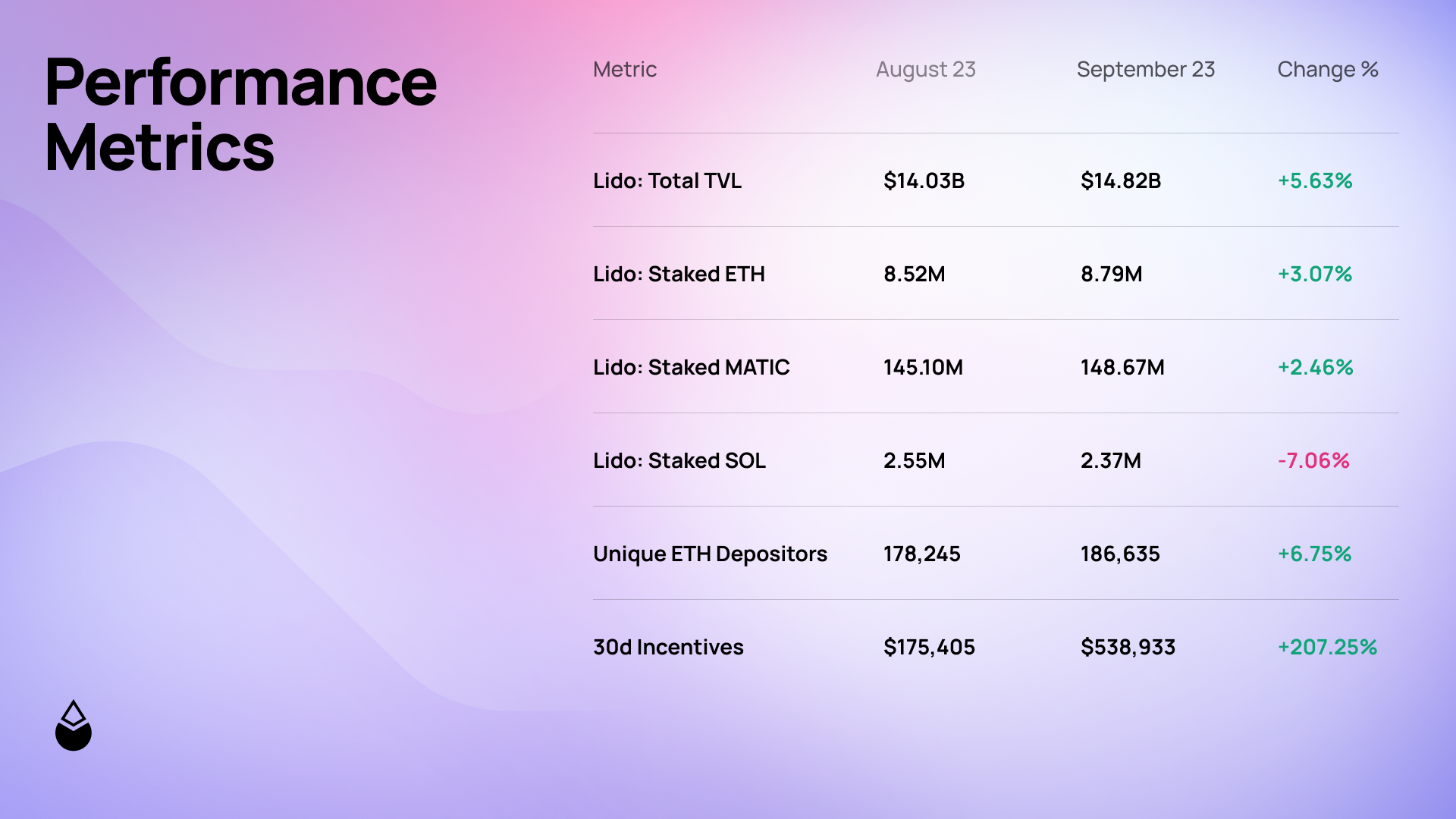 Additional Notes
The substantial increase in total TVL across the Lido protocols can be primarily attributed to both the influx of ETH deposits and the increase in the rising price of ETH.
The protocol has now attracted over 186,000 unique ETH depositors, indicating that more than 30,000 first-time stakers have chosen to utilize the protocol within the past three months.
The significant rise in incentives has come as the result of the Liquidity Observation Lab - the relaunched reWARDS Committee - with its new liquidity incentives programs.
---
Treasury Composition
In this section, you will find an overview of the changes in the Lido DAO Treasury over the month of September, emphasising the DAO's commitment to transparency.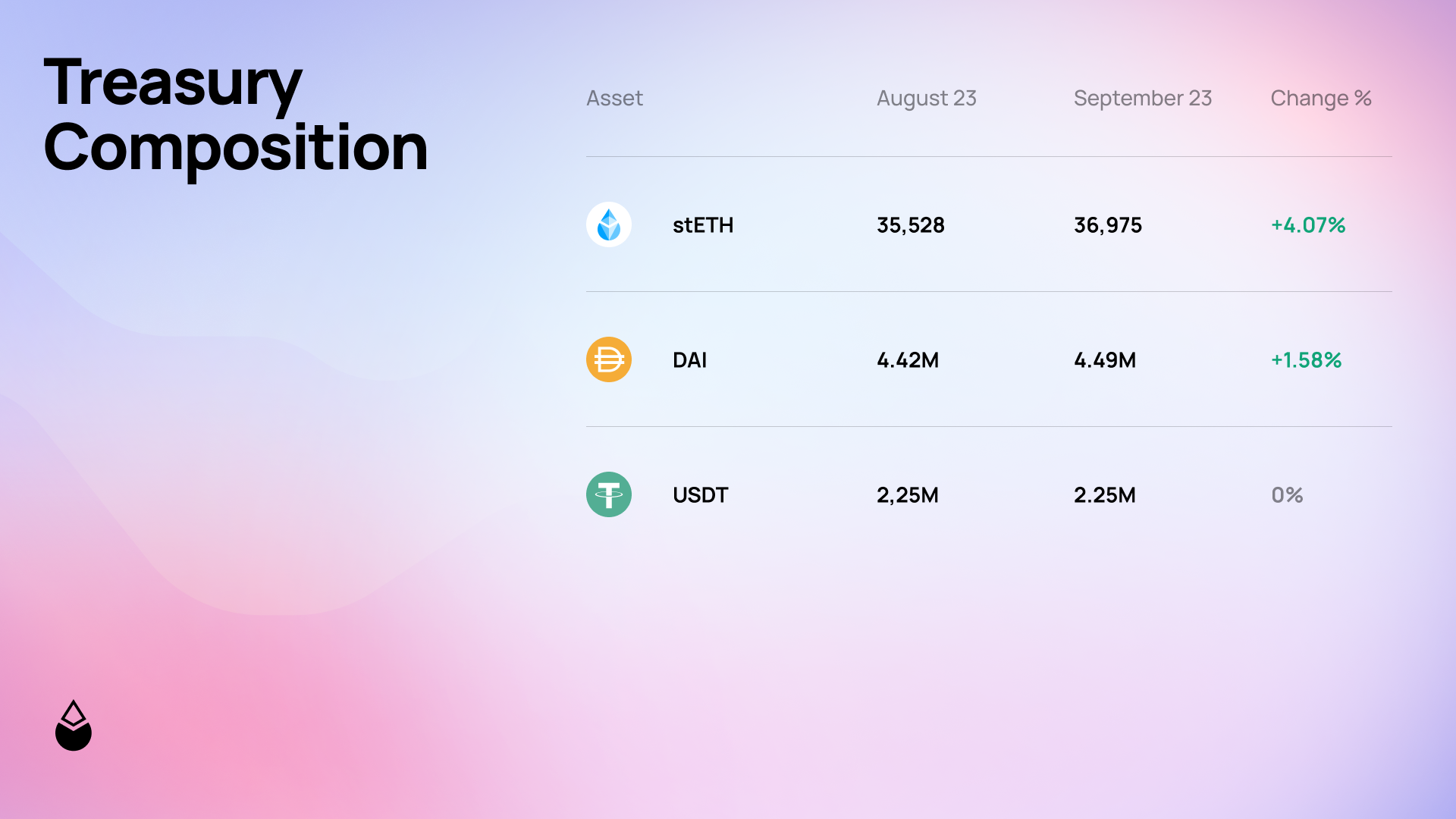 Additional Notes
This Treasury Composition excludes LDO holdings.
---
stETH Performance
In this section, you will find key metrics that offer valuable insights into the overall performance of the Lido's Ethereum staking token over the month of September.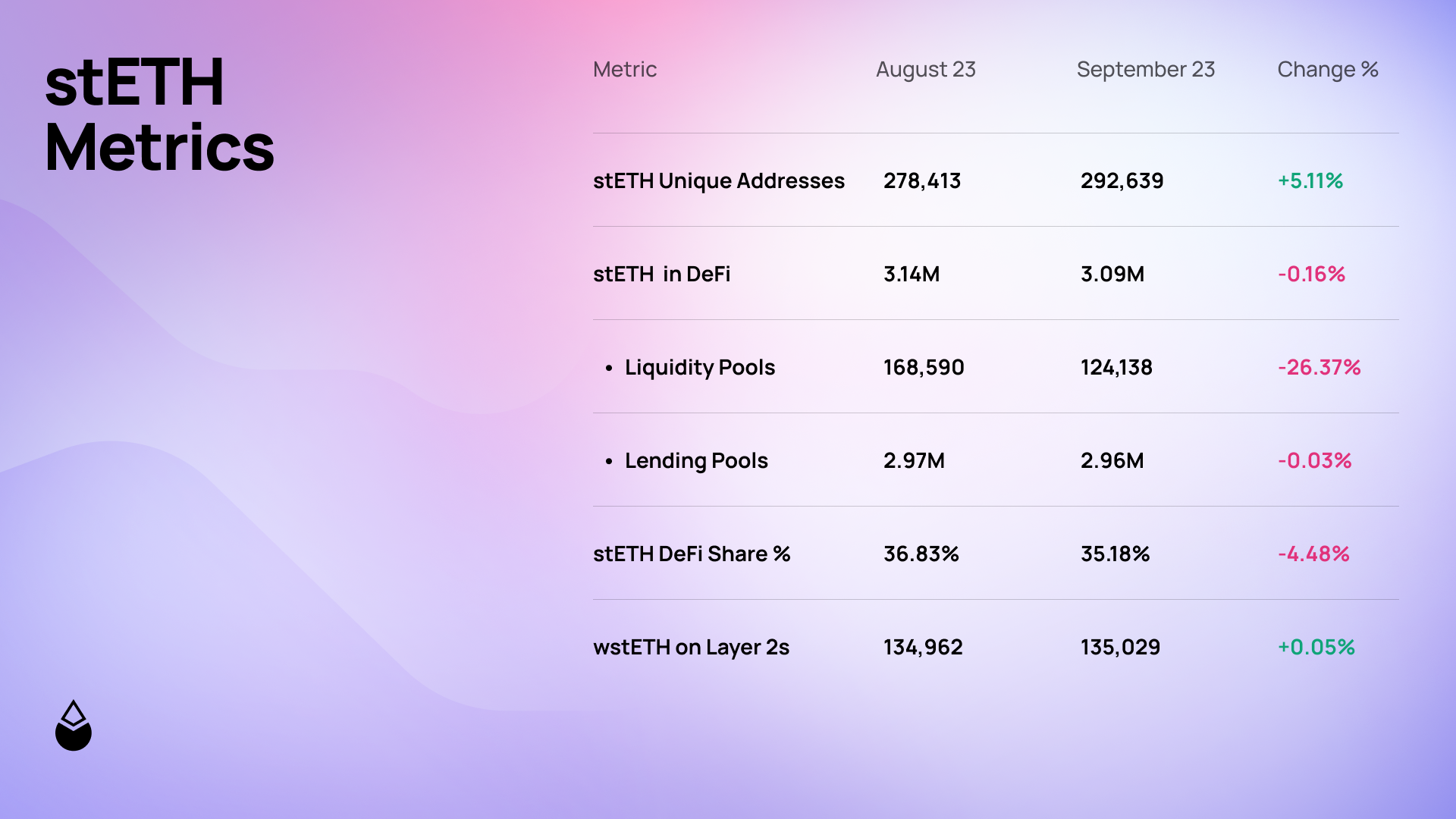 Additional Notes
It is important to note that these metrics also include wstETH - the wrapped, non-rebasing version of stETH.
While there was an overall decrease in stETH across DeFi applications, September saw a notable increase of over 14,000 new stETH holders.
wstETH adoption on Layer 2 blockchains experienced a rise across the board, led by Arbitrum, which currently accounts for approximately 63% of the total wstETH on L2 networks.
---
Governance
In this section, you will find notable proposals that have arisen from the Research Forum, along with their advancements through the voting processes on Snapshot and Aragon.
Despite several ongoing discussions within the Research Forum, it's important to note that there were no successful Snapshot votes that reached the Aragon stage during the month of September. As per the governance voting schedule, the next Aragon Omnibus vote is only scheduled for 3 October.
Snapshot
Among the various Research Forum proposals considered and deliberated upon during the past month, three proposals was subjected to a Snapshot vote.
Emergency Brakes Signer Rotation: details
This proposal sought to rotate one of the Lido DAO Emergency Brakes multisig signers. These multisigs play a vital role in safeguarding Easy Track and L2 bridges by enabling a pause function.
Proposal Outcome: Successful ✅
2.   GOOSE proposal: details
This "Guided Open Objective Setting Exercise" (GOOSE) proposal sought to implement a prototype framework for Lido DAO goal consent -  promoting increased openness, adaptability, distribution, and cyclical progress
Proposal Outcome: Successful ✅
3.   Stage 2 Wave 5 NO Onboarding: details
This proposal sought to onboard the following 7 shortlisted Node Operators to the Lido on Ethereum NO Set, as part of Stage 2 of Wave 5:
a4x Inc.
Develp GmbH
Ebunker Technology LIMITED
Gateway.fm AS
Numic
ParaFi Technologies LLC
Rockaway Blockchain GP Ltd
Proposal Outcome: Successful ✅
---
Community
In this section, you will find recaps of vital community gatherings, with a particular emphasis on the Node Operator Community Calls. These recaps serve to capture and share insights from these gatherings, fostering active engagement and meaningful discussions within our expanding community.
NOCC Call #10
The latest Node Operator Community Call covered several important topics:
For more details, see below for the full call:
---
Collaborations
In this section, you will find all the collaborations that have been established in the past month, as leading companies and protocols integrated with the Lido protocols, further expanding the reach and impact of its liquid staking tokens.
Integrations
---
Extra
Lido DAO contributors have been highly engaged in the development of new staking modules, including initiatives such as community staking.
On that note of community staking, Lido DAO contributor Eridian launched the Lido podcast, which delves into diverse facets of Ethereum staking.
A recently published blog expanded on a number of initiatives funded by the Lido Ecosystem Grants Organisation (LEGO), which is aimed at reducing possible oracle attack vectors through the use of supplementary trustless zk-proof TVL oracles.
Lido DAO contributor Eridian published his first post of his "Lido Community Staking" series.
---
Looking Ahead - October 2023
The third Lido DVT testnet will be taking place together with Obol Network and SSV Network. If you are interested in participating, make sure to sign up before the form closes in mid-October! Interested parties will receive additional steps later this month.
Following the support of wstETH on Cosmos, keep your eyes out for further support on new networks in the month ahead.
---
Conclusion

To conclude, another chapter is brought to a close in the Lido Monthly Report. To remain continuously updated, be sure to subscribe to receive all upcoming reports. Furthermore, to stay connected with the growing Lido community, follow Lido DAO through the various channels provided below.
Resources