Lido & 1inch Launch Double Rewards on stETH/DAI Pair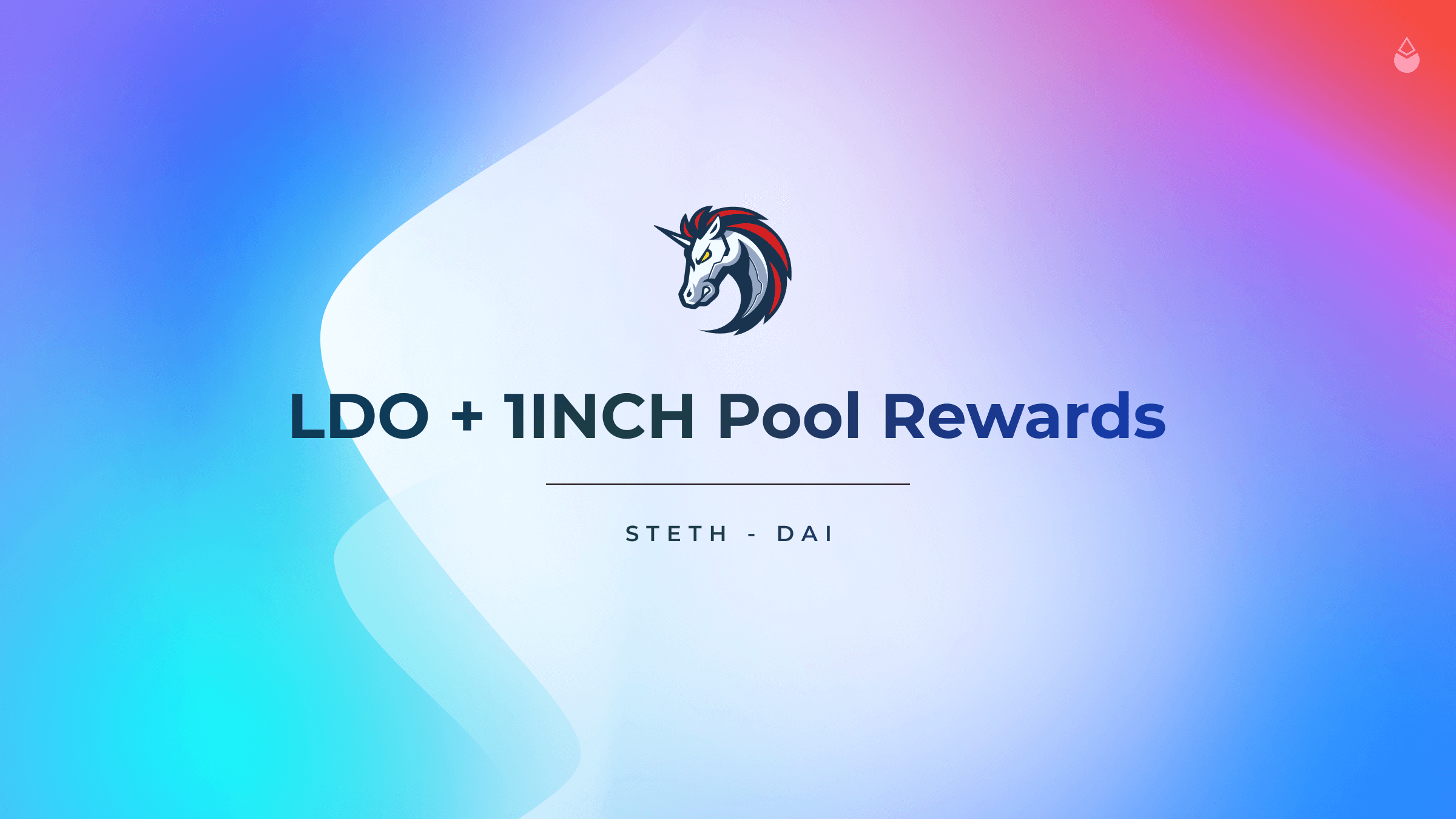 Lido and 1inch have collaborated to provide users with double LP rewards on the stETH/DAI pool
Today we are pleased to announce an expansion of the Lido stETH liquidity incentive program designed to streamline the liquidity of our staked ETH token.
In line with the pools launched earlier on Balancer and Sushi, the main purpose of this new pool incentive are to boost stETH productivity across DeFi, remove blockers for future integrations and allow Lido to get a more sustainable and reliable price feed. You can find the original proposal here.
For the first month, a double reward program of 200,000 LDO and 200,000 1INCH tokens will be allocated to LPs on the stETH/DAI pool. The 1inch stETH-DAI program kicks off on September 24th at 11.00 AM CET and will run for a period of 4 weeks.
To get started earning rewards, visit app.1inch.io.
Summary
Provide liquidity in the stETH-DAI pool to earn 1INCH & LDO tokens + pool trading fees.
Benefit from Eth2 staking rewards through exposure to stETH.
200,000 LDO and 200,000 1INCH tokens have been allocated for the first 30 day period.
Receive rewards in real-time, claimable at any time.
Unstake your pooled tokens at the click of a button.
Getting Started
Users can easily provide pool liquidity on 1inch to improve liquidity and price stability of both DAI and stETH, earning 4 separate rewards in the process.

Visit app.1inch.io/#/1/dao/pools?filter=stETH and connect your wallet.
Search for stETH / DAI using the filter.
Select the stETH / DAI pool.
Click 'Provide Liquidity'.
Choose the proportion of DAI and stETH you wish to provide. Please note this will automatically be done in a 50/50 split.
Choose the quantity of LP tokens to mint. This will be based on the quantity of DAI and stETH you provide.
Once you are satisfied with the numbers, press Unlock and unlock both your DAI and stETH tokens. You will need to confirm both of these events using your Ethereum wallet.
Once tokens are unlocked, press Provide Liquidity and confirm the transaction using your Ethereum wallet.
How to contribute to 1inch Liquidity Farms
Once the transaction has been completed you will be providing liquidity to the stETH-DAI pool on 1inch, represented by the 1LP-stETH-DAI now in your wallet. These represent your stake in the liquidity pool.
Your 1inch LP tokens can be staked across 1inch Farms for the additional rewards outlined above.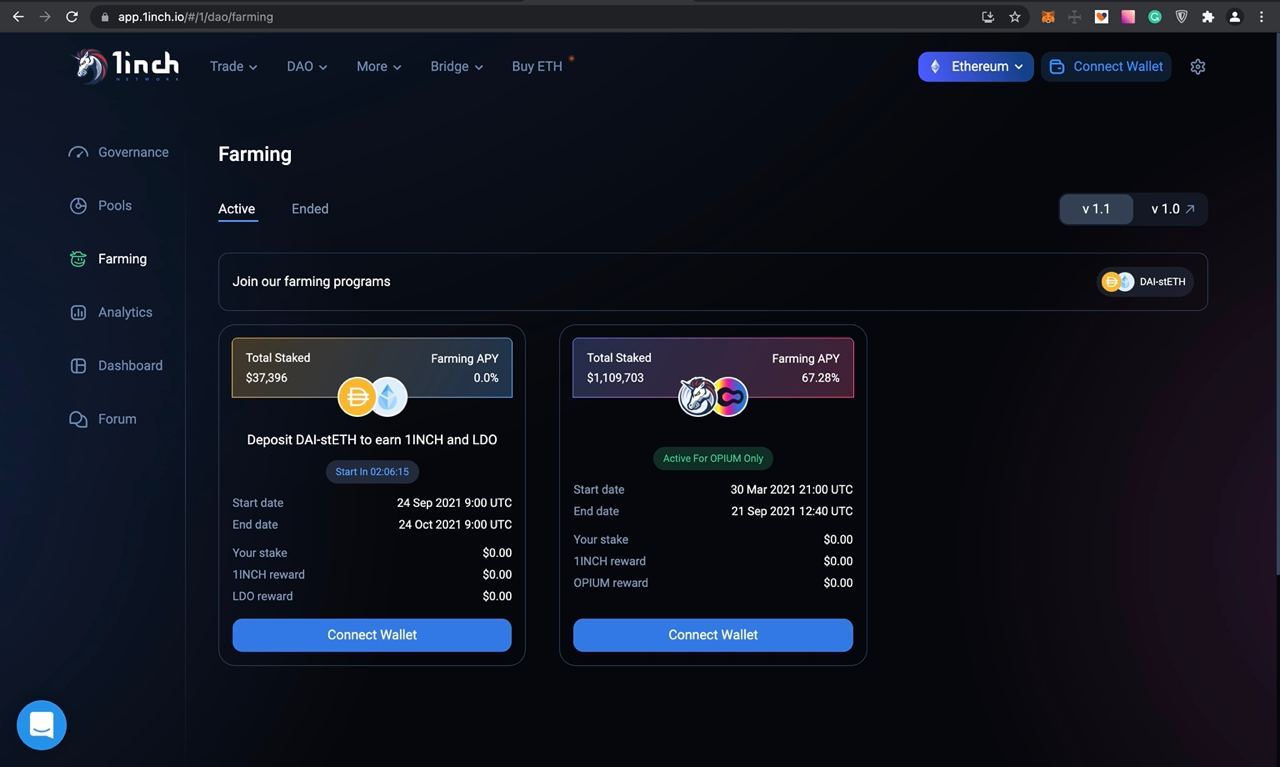 To stake 1inch LP tokens, follow these steps:
Visit app.1inch.io/#/1/dao/farming.
Navigate to the stETH-DAI farm.
Once found, click Deposit.
A pop-up window will show up with your 1LP-stETH-DAI balance and an overview of your staked amount and daily/monthly/yearly earnings.
Choose the amount of 1LP-stETH-DAI you wish to stake out of your existing balance and press Unlock Token. Confirm the transaction in your Ethereum wallet.
Once unlocked, you can now deposit your 1inch LP tokens. Do so by clicking Deposit and confirming the transaction using your Ethereum wallet.
How to acquire stETH / DAI
Users interested in contributing to the 1inch stETH liquidity reward program can purchase stETH and DAI using the 1inch aggregator markets.
To do so, visit app.1inch.io and swap your tokens to DAI, stETH or both.
Learn More