Lido On Solana Sunset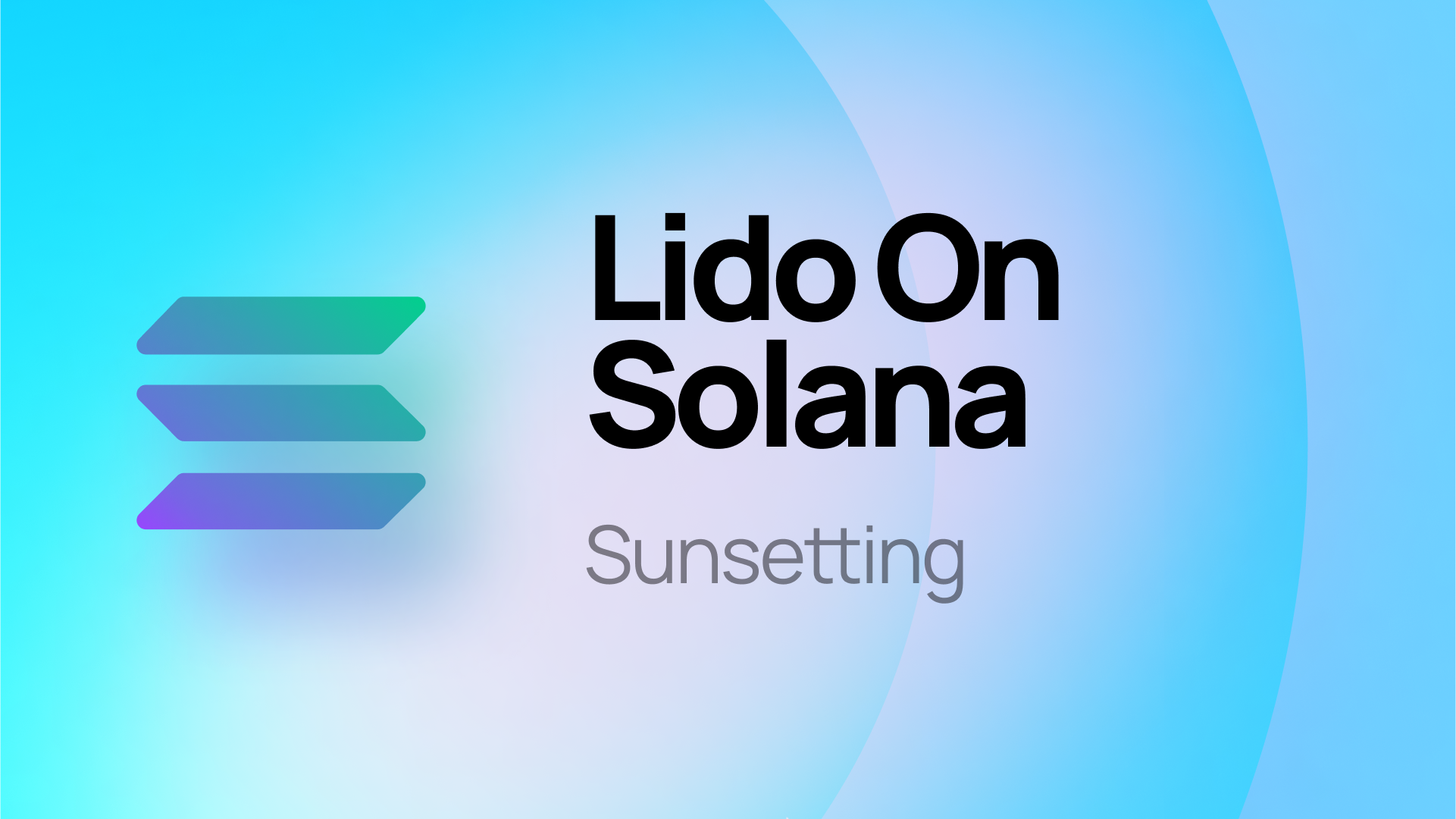 Over the coming months, Lido on Solana will be effectively discontinued.
After extensive DAO forum discussion followed by community vote, the sunsetting of the Lido on Solana protocol was approved by Lido token holders and the process will begin shortly.
Below you will find a breakdown of the justification for the sunsetting, as well as key timelines and required actions for node operators and stSOL token holders.
Sunsetting Justification
The Lido on Solana sunsetting comes after a proposal was put forth to the Lido DAO by P2P Validator (the Lido on Solana development team), outlining the achievements, challenges, and future prospects of Lido on Solana.
The P2P team, which has been contributing to the Lido DAO and developing Lido on Solana since March 2022, presented the Lido DAO with two scenarios:
Continue development on Lido on Solana with financial backing from the Lido DAO.
Sunset Lido on Solana.
After much discussion and a vote by Lido DAO members, it was decided that the best course of action would be to wind down Lido on Solana.
Whilst this decision was difficult in the face of numerous strong relationships across the Solana ecosystem, it was deemed a necessity for the continued success of the broader Lido protocol ecosystem.
For more insights into the process, please refer to the forum discussion post: research.lido.fi/t/lido-on-solana-funding-proposal/5371.
Implications for Users
Continued Staking Rewards: stSOL holders will continue to receive network rewards throughout the sunsetting process.
Unstaking Process: stSOL holders can unstake via the Lido on Solana frontend until February 4, 2024. After this date, unstaking will need to be done using the CLI.
Unstaking instructions can be found below:
Implications for Node Operators
Voluntary off-boarding: P2P Validator and Lido NOM contributors will provide instructions for the process of voluntary off-boarding via Lido community channels. Operators who decide to exit the pool will be able to shut down their nodes following the off-boarding. Operators who stay will maintain their remaining stake on their nodes.
Key Dates
October 16, 2023: Lido on Solana staking will be discontinued and no new stake will be accepted.
November 17, 2023: Voluntary node operator off-boarding will begin.
February 4, 2024: Lido on Solana Frontend support will conclude. After this point, unstaking will only be feasible via the Command Line Interface (CLI).
In closing, the heartfelt gratitude of Lido on Solana contributors goes out to Solana stakers, builders and ecosystem partners. This decision does not reflect the belief of Lido contributors on the potential and longevity of the Solana ecosystem as a whole.
The journey with Lido on Solana protocol has been momentous, filled with challenges overcome and milestones celebrated. While this marks the end of this particular chapter, the optimism of Lido contributors for the future of Solana remains undiminished.
Stay connected for further updates, and please reach out on Telegram, Discord or Twitter for any questions or concerns.