Guide: Staking Solana (SOL) With Lido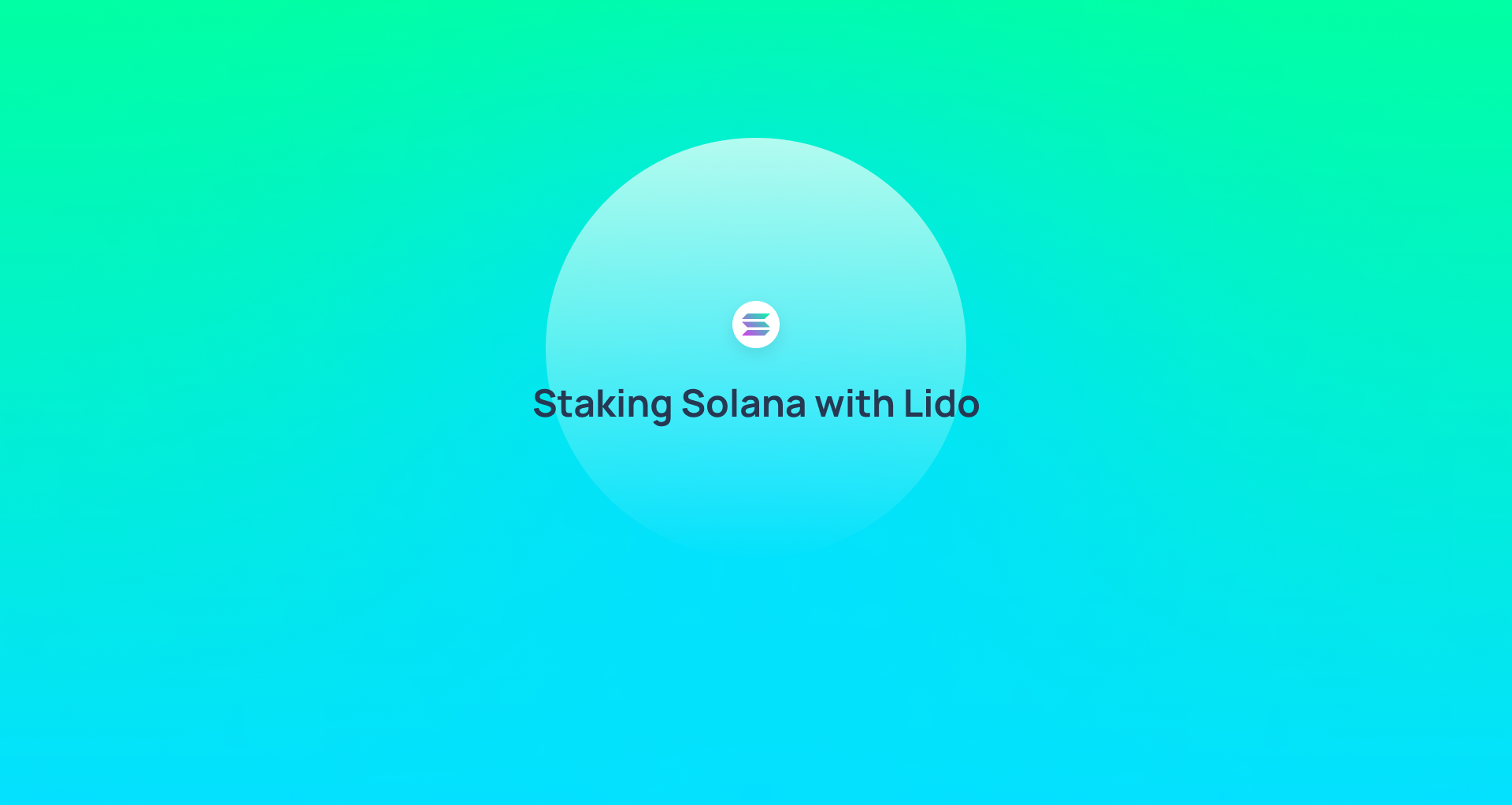 Earn rewards on your SOL in just a few clicks with Lido.
Lido lets you effortlessly stake your Solana (SOL) to earn daily staking rewards sent straight to your wallet. Stake any amount - and unstake any time - to earn rewards on your SOL while contributing to the security and decentralisation of the Solana network.
Stake SOL with Lido on solana.lido.fi 🏝
Summary
Stake your SOL with Lido to earn 5% APY in rewards.
Stake any amount of SOL - no minimum or maximum.
Receive daily staking rewards and watch your balance grow with stSOL.
Stake directly from your Phantom, SolFlare or your preferred Solana wallet.
What is Lido
Lido is a liquid staking protocol for Proof-of-Stake (PoS) networks.
When staking with Lido you receive a liquid staking token in return, in this case stSOL. This token allows you to earn daily staking rewards on your Solana whilst taking part in the many, many opportunities available across the Solana DeFi ecosystem - from farming on Orca to collateralization on Raydium.
Too many options across Solana? Not sure whether to stake or put your tokens to use on another protocol? Use Lido to do both.
Our goal with Lido is to let you do both. Take part in the essential task of staking - securing and strengthening the underlying network - whilst putting your tokens to work in the growing DeFi space to maximise your rewards.
How to stake SOL with Lido
Go to solana.lido.fi.
Connect your Solana wallet.
Choose the amount of SOL to stake.
Press 'Submit'.
Approve the transaction using your wallet.

Using your stSOL across the Solana DeFi space
There are a number of ways to put your staked SOL (stSOL) to work across the Solana DeFi space to maximise your yield.
Visit solana.lido.fi/defi for an overview of all the exciting opportunities.
Frequently Asked Questions
How long does it take to stake SOL with Lido?
Less than a minute! Follow the instructions outlined above to start earning rewards in just a few clicks.
Is my staked Solana locked with Lido?
Not at all - with Lido you can unstake any time with no waiting or unbonding periods.
How often do I earn rewards with Lido?
Daily! Every 24 hours the price of your stSOL will increase to reflect earned staking rewards.
Which wallets can I use to stake SOL with Lido?
More or less any! Use your Phantom, Solflare. Ledger, Solong, Sollet and more to start staking with Lido.
Are there any fees?
Yes - Lido takes a 10% cut on earned rewards.