Staking Ethereum On MetaMask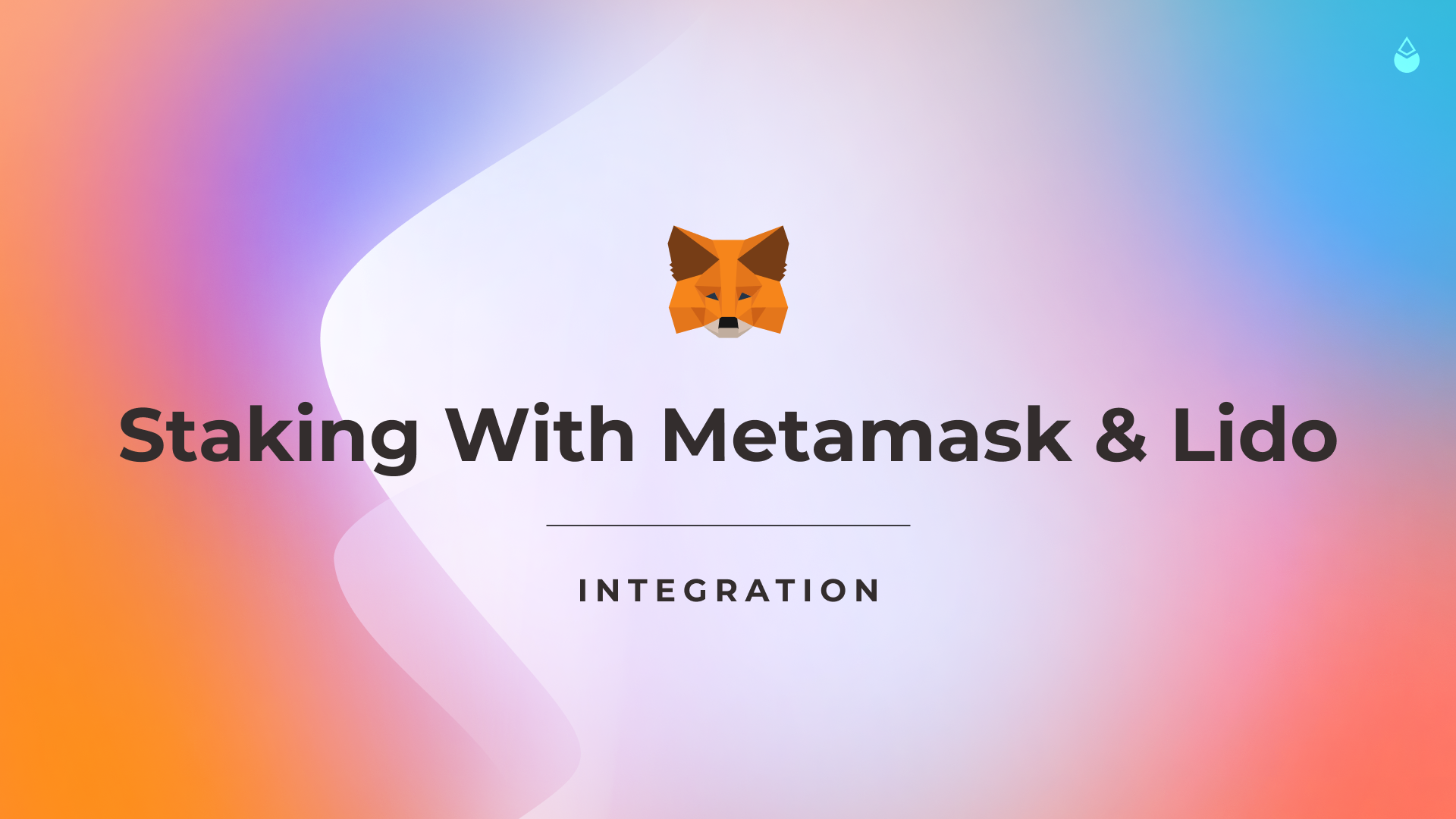 Stake your ETH on MetaMask to earn yield and secure the Ethereum network from the comfort of your wallet.
Ethereum staking with Lido is now live on MetaMask!
MetaMask, the world's leading web3 wallet supporting multi EVM-compatible chains, now allows users to stake their ETH with Lido directly from the comfort of their MetaMask browser extension or mobile wallet. With this launch, ETH holders on MetaMask can now earn daily staking rewards on their ETH and contribute to the stability and security of the Ethereum network.
To get started, head to portfolio.metamask.io/stake.
How to stake with Lido on MetaMask
Lido has been integrated into MetaMask Portfolio Dapp so users can stake their ETH directly with Lido through the portfolio Dapp.
Visit the MetaMask portfolio Dapp.
Connect to your MetaMask wallet.
Toggle to the staking tab and select "Lido Staked ETH".
Click "Stake".
Enter the amount you want to stake and click "Review".
Review the stake and click "Confirm".
Sign the transaction using your wallet.
To view your staking rewards, follow the steps below:
Visit the portfolio Dapp. On the browser extension, you can click the 'Portfolio site' as well.
Connect to your Metamask wallet.
Toggle to the "Staking" tab.
On the stake page, you could see your holdings (e.g. stETH).
Staking Ethereum With Lido
Staking is the act of depositing, or locking, your ETH tokens in order to validate transactions on the Ethereum network. This in turn helps keep the Ethereum network secure, and lets you earn a reward for your efforts.
When staking with Lido, you no longer need to "lock" your tokens away, as is the case with many other staking providers. When you stake, you receive an stETH (staked ETH) token in return, which you can send, transfer, store and sell as you would with your regular ETH. The difference between your stETH and your regular ETH however is that your stETH rebases on a daily basis.
What does rebasing mean?
Rebasing means that the supply of your token updates every 24 hours - around 12pm UTC - as staking rewards come in. As an example, the 10 stETH i hold on the Monday will be 10.001 stETH on Tuesday, 10.002 stETH on Wednesday, 10.003 stETH on Thursday, and so on. These rewards will keep accruing for as long as you hold stETH in your wallet.
Other benefits of staking with Lido include:
No minimum stake - stake any amount of ETH to get started.
Start earning rewards immediately.
Sell your stETH anytime to "unstake".
Stake with proven and experienced node operators.
What's Next?
With Lido and MetaMask, users now have access to secure, convenient and easy staking, directly from their own wallet. Whether you are an individual staker, a DAO treasury manager or a seasoned trader, Lido makes it easy for anyone to earn rewards on their idle ETH.
In the coming months, users will be able to unstake their stETH with Lido at the click of a button, whilst still benefiting from the simplicity of Lido.
In the meantime, check out portfolio.metamask.io/stake to start staking with Lido and MetaMask.