Stake MATIC with Lido & Zerion Wallet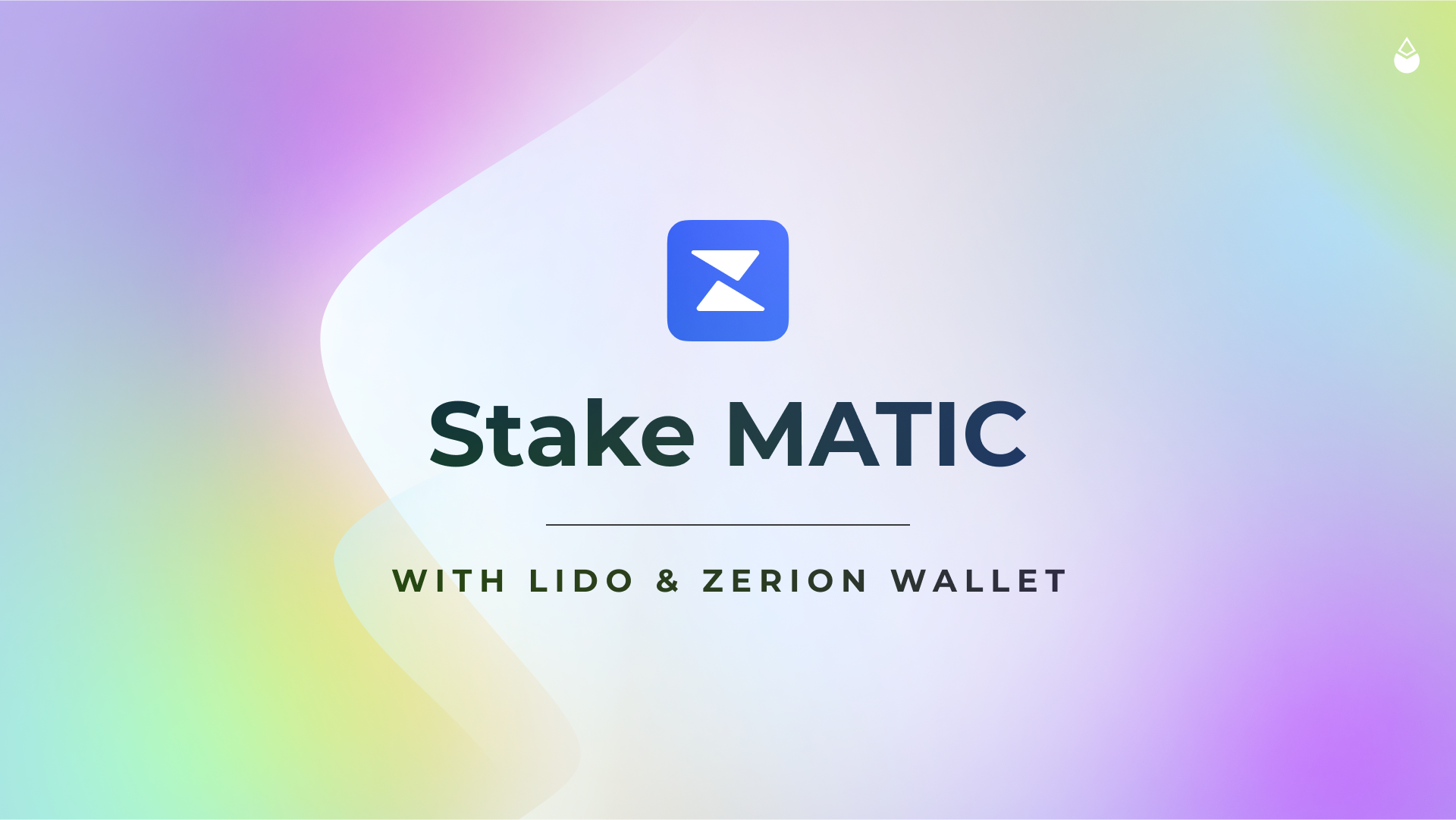 It's the perfect time of year for giving and receiving. But this festive period, why not also wrap some MATIC with Lido and Zerion!
This post will explain how to stake MATIC with ease using Lido on Polygon protocol and the Zerion wallet dApp browser.
It will also provide step-by-step instructions on how to wrap and acquire Matic to start staking.
What is Zerion Wallet?
Zerion Wallet is an easy-to-use, and convenient way to acquire stMATIC and many other assets across multiple chains.
Zerion recently launched its dApp browser feature that allows dApp users to easily browse, bookmark and connect to their favorite dApps and staking providers (like Lido), on their phones and web app.
And now, with the help of Zerion Wallet, users can acquire and stake stMATIC directly.
What is Staking?
Staking is a process where stakers are rewarded by proof of stake networks for contributing to the security of the networks. In return for contributing to the operation of the network , the network pays out rewards to stake holders.
Lido protocols enable users to stake their assets on multiple chains and earn rewards without sacrificing ownership or control of their funds giving a much more flexible staking experience.
It's possible for anyone to stake MATIC, but a number of steps are needed like connecting to the Polygon staking website and manually selecting a validator. In addition to this, when you stake, your MATIC tokens are locked up and if you urgently need them, it could take a number of days before they can be unbonded and usable again.
Enter: stMATIC and Lido
Lido on Polygon gives users options to:
Stake their MATIC tokens in a decentralized and efficient way-
Use their stMATIC across DeFi.
Do all of the above simply and easily with a click of a button on the UI.
Staking MATIC through Lido protocols will return you stMATIC, which allows you to both help secure the Polygon network and earn staking rewards without locking up your funds in any way.
You can also do this directly through the Zerion dApp browser. Let's see how below.
So how do I do it?
Once you have MATIC, you'll need to wrap them into stMATIC. The next step is to stake them.  
Wrap Matic
Use the dApp Browser in Zerion Wallet
Go to polygon.lido.fi
Make sure the Ethereum network is chosen
Choose a wallet to connect
Enter the amount of MATIC to convert/wrap to stMATIC
Click Unlocked tokens
Approve and sign the transaction
Stake your stMATIC with Zerion Wallet.
Go to polygon.lido.fi via dApp Browser in Zerion Wallet
Make sure the Ethereum network is chosen
Choose a wallet to connect
Enter the amount of stMATIC to stake
Click Stake now
Approve and sign the transaction
How are MATIC staking rewards distributed?
The Lido protocol calculates the current stMATIC/MATIC ratio and sends the appropriate amount to the user as set by the parameters set by the Lido DAO. The staked MATIC is then delegated across Polygon validators which are part of the Lido on Polygon network.
The rewards earned from staking MATIC are shared between validators and delegators.
The amount of staked MATIC determines the size of the rewards, and the network seeks to have 30% of the supply of MATIC staked. Withdrawing these rewards could be costly due to the potential for high gas costs on the Ethereum network.
The simplest way to stake MATIC is through Lido on Polygon protocol, either with their user-friendly interface or by acquiring stMATIC directly as mentioned above.
Tell me more about stMATIC
The stMATIC token represents a contributor's share of the total supply of MATIC tokens found within the Lido-on-Polygon ecosystem. This is a non-rebasable token, so the amount of tokens stored in a contributor's wallet will remain the same.
These tokens can be seen as a proportion of the total pool of staked assets, including the accumulated rewards which is why the cost of stMATIC is slightly higher than regular MATIC tokens.
stMATIC can be unstaked via Lido on Polygon protocol's UI with the user receiving MATIC tokens without delay.
Alternatively, users can also swap their stMATIC tokens and obtain MATIC or any other token with Zerion Swap.
'Tis the Season for Wrapping
Both Zerion and Lido are designed with the goal of providing users with streamlined access to DeFi protocols and applications whilst getting the most out of their staking experience.
With easy access to the benefits of the Polygon network and attractive staking rewards, users can enjoy a simple and efficient experience throughout the process.
Staking MATIC with Zerion and Lido is an effective and rewarding way to both put your assets to work, and help to secure the overall ecosystem.