Referral Program: Six Period Review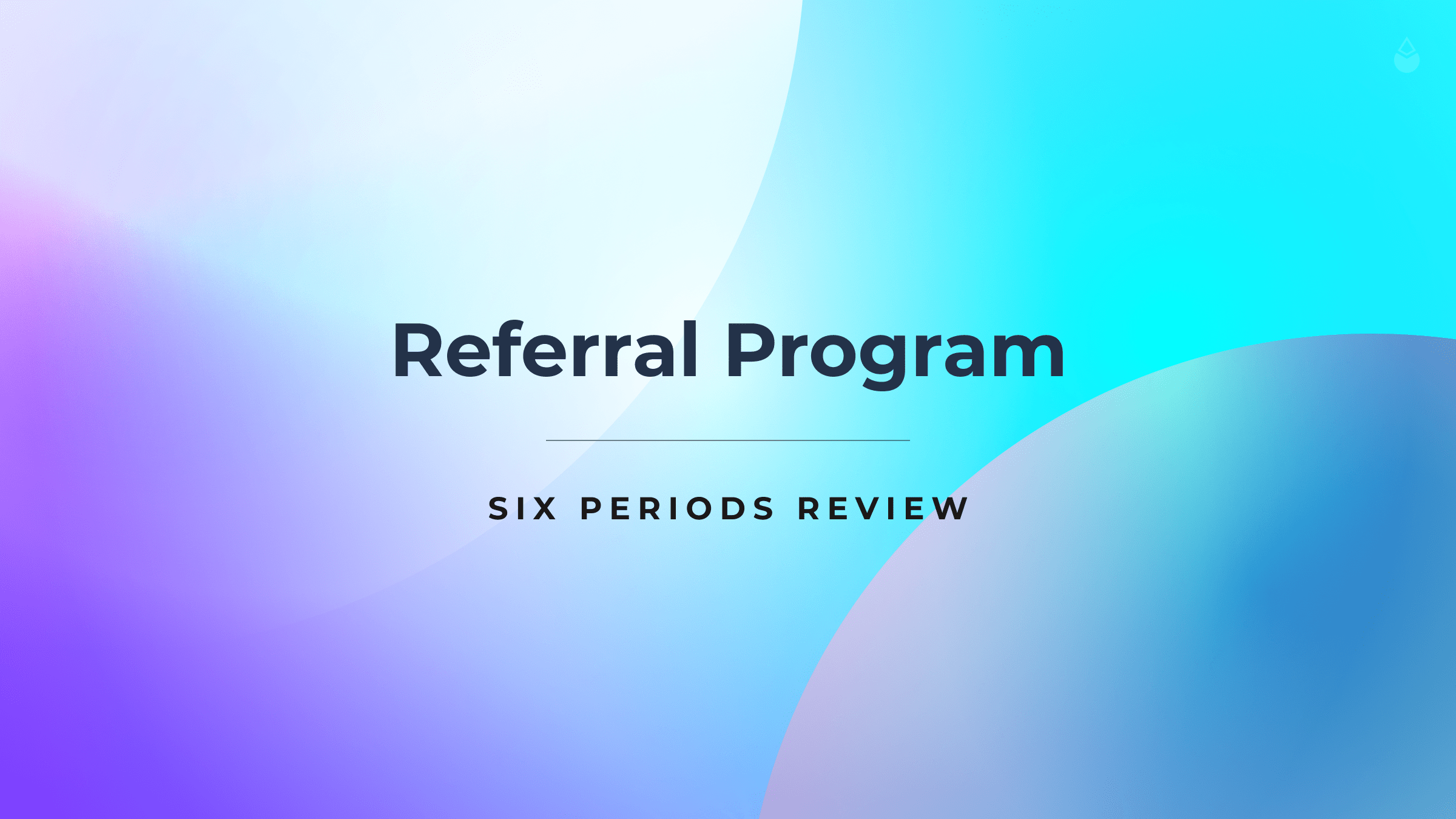 Lido referral program was launched on July 19th, 2021 (see blog post) with the goals of increasing the number of active stakers and partners (wallets and protocols), grow Lido TVL, and promote the benefits of stETH. After four months the results have been incredible.
Amount of stake ETH that earned rewards - 463,111.78 ETH
Rewards paid out - 6,433,843.42 LDO
Unique referrals - 583 addresses
Unique referees - 12,406 addresses
Whitelist - 25 addresses
In terms of tokenomics, the referral program has been very efficient at using token incentives to increase Lido's total value locked (Currently ranked 8th on DefiLlama). And in Lido's case, TVL is a very good indicator for protocol health because Lido's treasury earns 10% of all stETH staking rewards.
Stats and issues after the 4th Period
At the end of the 4th referral period, the Lido referral program grew significantly regarding TVL and new stakers growth.
30% of the initially allocated referral rewards pool were paid out to referrals (4.7M LDO of the 15M LDO allocated)
AUM grew 63% total staked amount growth (633K ETH staked on the launch date of 19.07, 401K ETH staked via referral program)
Unique addresses grew by 100% (8.1K unique addresses/stakers on 19.07, 8.4K unique referees)
Ledger integration was responsible for a large amount of this growth
However, there were issues related to breaking referral program rules by referees actions (out of miscommunication, ignorance, or malice). As a result, stETH : ETH price peg got affected (dropped to 0.98 at worst but recovered rapidly**)** on the Curve pool by a number of prohibited actions:
Cycle staking - using the same amount of ETH multiple times by converting stETH back to ETH and staking it again.
Removing liquidity from incentivized liquidity pools. This affects the stETH/ETH price peg so Lido will not issue referral rewards for that behavior. Incentivized liquidity pools include 1inch, Curve, Balancer, or Sushiswap.
Adding/removing one-sided liquidity to stETH pools with liquidity mining programs (such as Curve, Balancer, SushiSwap). Referral rewards will still be issued for two-sided stETH liquidity deposits and withdraws.
Other actions that are directly or indirectly affecting the ETH:stETH peg.
All the details of prohibited actions can be found here in terms & conditions. Because of this behavior the number and share of suspicious and abuse cases grew from period to period (60% in the 3rd period). It became difficult and expensive to maintain the referral program as it was very complicated to track the flow and source of ETH which potentially means abuse cases got rewarded.
Whitelist Mode
Because of these issues, the referral program switched to a curated whitelist (proposal and voting) in 5th referral period (13.09) to prevent incentivizing staking behavior that destabilized the stETH : ETH peg. By limiting the number of referrals to projects, individuals, or protocols who care about their reputation Lido hopes to continue to grow TVL without destabilizing price peg. All candidates are reviewed on a weekly basis here and are vetted for their reputation, background information, and how they intend to use the Lido referral program.
Changes to the Referral Rewards
Lido also changed how the rewards are calculated which took effect from the 5th referral period (13.09). Referral reward to 1% payback* (proposal and voting) with limitation the reward range (5 - 20 LDO for 1 ETH) that would help to optimize rewarding budget allocation.
*calculated every payout week based on 2 weeks' time-weighted average price (TWAP) of ETH and LDO in USD prices. At the time when the proposal got posted the payback was around 2.4%.
First Whitelisting Periods Results
Here are the results of the first two referral periods (5th and 6th) in whitelist mode.
Approved stake amount - 61,140.61 ETH.
Approved rewards amount - 404,275.85 LDO.
Reward budget spending reduced ~12x times compared to 2 previous periods (404K LDO vs 4,845K LDO) which was one of the goals of those improvements (whitelisting mode and 1% payback).
The number of wallets and protocols integrations significantly growing, in 2 periods we onboarded Nexus Mutual, MathWallet, IMToken, MEW, Nexo, Figment, Cobo, SteakWallet, and others joined the whitelist together with early joiners: Ledger, Argent, 1inch.
Lido referral program continues to operate in whitelist mode and Lido DAO will keep track of it.
Wallets and protocols are welcome to join the referral program by applying at the whitelisting thread of the Lido DAO governance forum.
Key Info