Lido Referral Program - 2nd Period Review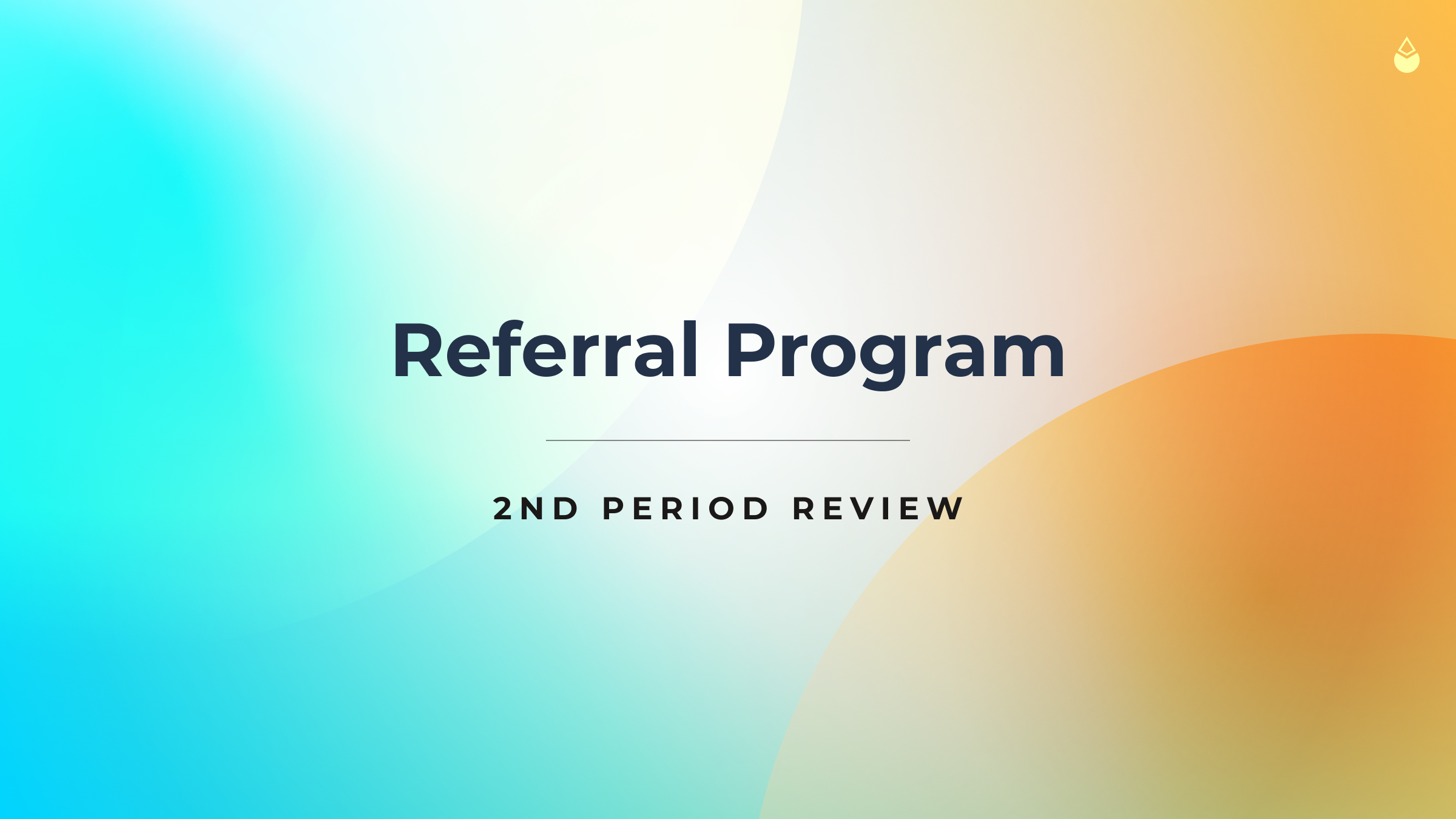 The second period of Lido's referral program showed great results which we are glad to share with the community.
The referral program was launched on July 19th, 2021 (see blog post) and the second payout week started on the 16th of August. Referral rewards for this period are now available to be claimed via DeversiFi.
Key Info
Referral program terms & conditions contain all the main info about the referral program (rules, glossary, flow explanations, links to guides, etc.).
Referral program periods schedule shows rewards calculation and payout weeks on the calendar.
Referral program public report shows all the approved rewards for each period.
Key Numbers
2nd period
The staked amount approved - 55,822.50 ETH
Rewards paid out - 837,337.51 LDO
240% growth from 1st period!
Rewards denied (abuse cases) - 391,047 LDO
Referral program overall
The staked amount approved - 79,001.10 ETH
Rewards paid out - 1,185,016.51 LDO
Unique referrals - 290 addresses
Unique referees - 3,370 addresses
Integrations
Integration with Ledger brought 14,416.3745 ETH, which were rewarded with 216,245.6175 LDO.
Abuse Cases
For the first two weeks of the referral program, there were two types of staking that Lido did not include in the referral reward:
Cycle staking;
Removing liquidity from staking pool;
In the future, Lido reserves the right to exclude other types of staking attempts that we believe abuse the referral system.
1. Cycle staking
As was mentioned initially - cycle staking will be filtered out. Cycle staking is when a user sends ETH through Lido using a referral link, only to sell their stETH later for more ETH in order to repeat the whole process again. Staked ETH can not be used to get rewards again and again, and again...
Here are some examples of such transactions:
Referral: 0xd83eeacb5b03129bc96c8e264063b3e4ad32a544
Sender: 0x5f0d6e56314df6fa0b0e0233423d795460bd8802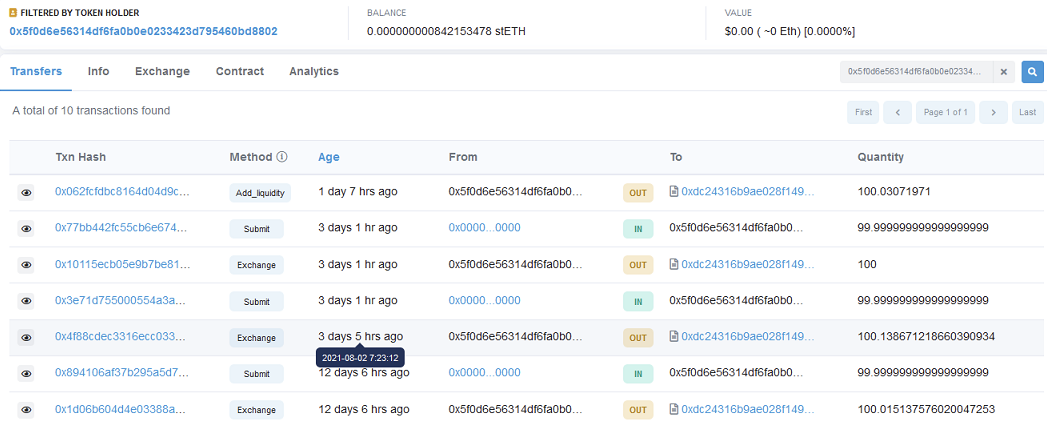 Source: etherscan.io
Referral: 0x35272b85758a8fb0fa3f904839b9d92ce656393a
Sender: 0x3d68577384cad1a1d9dc6ad12e8091879347f32f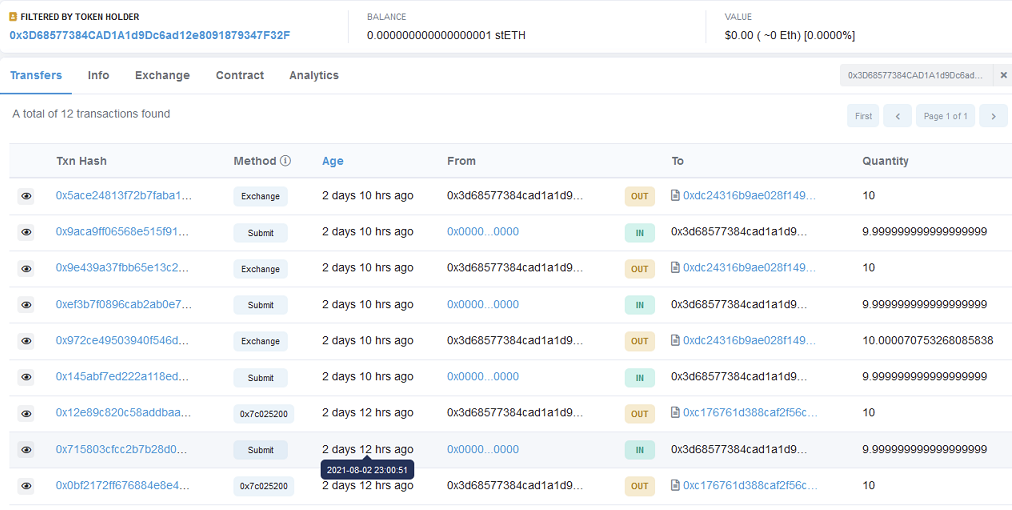 Source: etherscan.io
Referral: 0xbb2ca721211d6c0320308dec70d33e07091b4d7b
Sender: 0xc084508124a8b76e44a07418a92a868394153771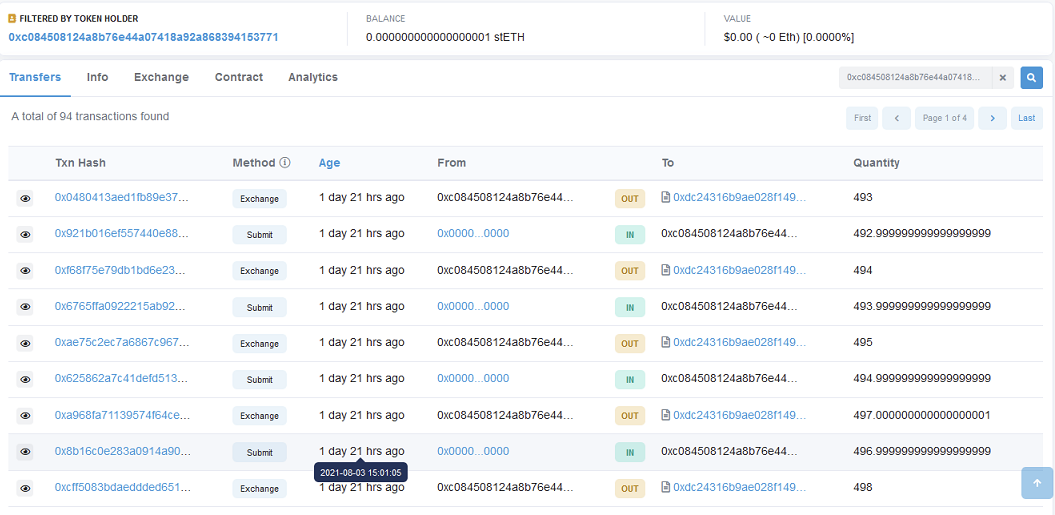 Source: etherscan.io
2. Removing liquidity from staking pool
The stETH/ETH pool on Curve is the biggest pool in DeFi. Withdrawing ETH from the Curve pool is not going to be rewarded (as it's not helping to grow TVL and can possibly hurt the peg).
Such cases of removing liquidity from stETH/ETH pools are not going to be rewarded.
Here is one case that was reproduced multiple times:
Initially 500 ETH was removed from the Curve pool - the reason why it's not rewarded. It was then sequentially transferred and split between multiple addresses, each address staking its respective amount of Ether.
This scenario been played multiple times with different addresses:
Referral: 0x7be31c2398680102e4140ccc057445c86c70b433
Sender: 0xbeb2545fd15d0f1699e4426928b81e8da75d1e26
ETH came from 0xe1d7eb370a5db663749aeeff6c2872c30238b758, <- had arrived from exchanging stETH in Curve pool.
Referral: 0x3df770e09313c229f7b0a18ab76b38f925a3a939
Sender: 0x731cf08ca9442b1e59080c41002f15ceb32fd8eb
Referral: 0x7b785ca173d136a9f5bf8611a799b881a28d1499
Sender: 0x06b3ee4eb3f61d03f918e2942979e8333d5b52e9
Referral: 0x8def2ab08c95d8e0b1c8c7708d0e0979ceb8c7ff
Sender: 0x4158a63c5042f7935364ec6317be686b85cf42ca
Referral: 0xde2d1206509cbb89e8490752de3eb949992e0d46
Sender: 0x887b15de0fe200bcaa5ad402944f2325cd0a3ef0
Here is the log of one implementation of this scenario:
0xbbb7edc2a8511fc8815f9e2c42160b33b8e32fd4 removed 500 ETH from Curve pool, -> transfer to 0x4158a63c5042f7935364ec6317be686b85cf42ca, 0x4158a63c5042f7935364ec6317be686b85cf42ca transfer to 0x887b15de0fe200bcaa5ad402944f2325cd0a3ef0, -> 0x887b15de0fe200bcaa5ad402944f2325cd0a3ef0 staked 250 ETH and transfer to 0x06b3ee4eb3f61d03f918e2942979e8333d5b52e9, who staked 187 ETH The same schema for staking 120 ETH by 0x4158a63c5042f7935364ec6317be686b85cf42ca and 130 ETH by 0x731cf08ca9442b1e59080c41002f15ceb32fd8eb. Before performing the stake, all addresses swapped ETH for USDC and USDT, then deposited into dYdX - L2 Perpetual Smart Contract - and swapped back for ETH.
Top 10 referrals of 2nd period
Top 10 referrals overall (from both periods)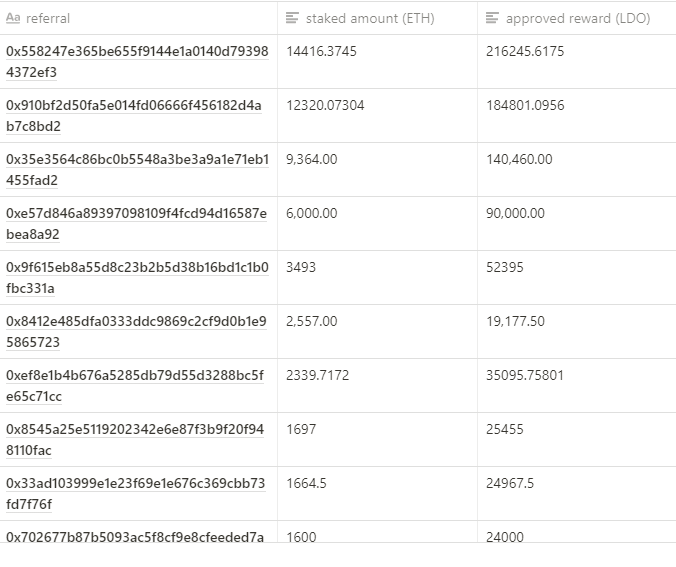 Summary
Overall, the Lido referral program shows great performance with 79,001.10 ETH staked by 3,370 unique referee addresses. The second period of the referral program showed a significant 240% growth in staked amounts compared to the first period. The integration with Ledger brought 14,416.3745 ETH, and rewarded referrals with 216,245.6175 LDO. This event proves how mutually profitable wallet integrations are in the Lido referral program, allowing users to easily stake their Ether from their own hardware wallet without further complications and without compromise. The Lido referral program will continue to operate and will be focusing on increasing other wallet integrations to accompany more users into the Lido ecosystem.