A New Era For Lido on Solana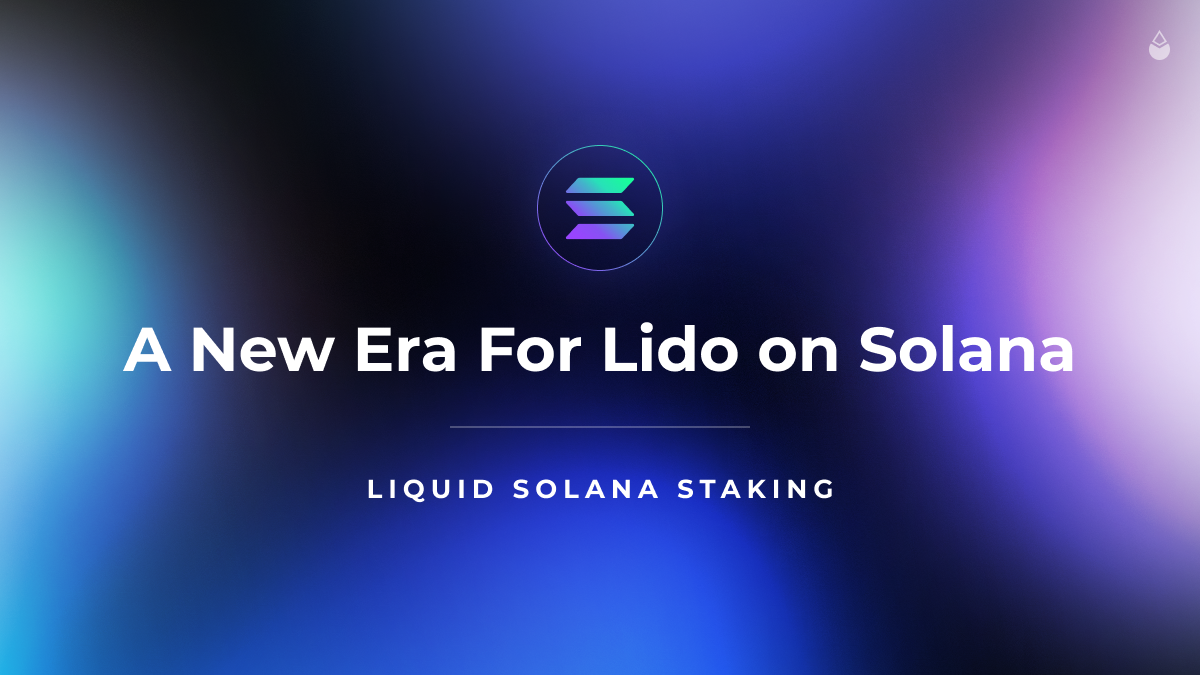 In September 2021 Lido launched liquid staking for Solana in collaboration with the Chorus One team. Since then we have seen tremendous momentum, with 3,000,000+ SOL staked and countless stSOL integrations paving the way for stSOL within the flourishing Solana ecosystem.
Lido on Solana was initially developed by the Chorus One team as part of a LEGO - Lido Ecosystem Grants Organisation - initiative to grow the presence of Lido across an array of staking networks. The proposal by Chorus One was approved by the Lido DAO and 6 months later liquid staking on Solana was launched.
Despite the significant role of Chorus One as part of the Lido DAO - as node operators, governance members and advisors - the time has come for management of Lido on Solana to transition. Due to organisational changes at Chorus One, a proposal was recently submitted to transfer ownership of the Lido on Solana project to P2P Validator, core members of the Lido DAO and the team responsible for liquid Ethereum staking on Lido.
This proposal was submitted for a DAO vote 7 days ago and has passed today, paving the way for a new era of Lido's liquid staking on Solana.
P2P has been involved with Lido and stSOL since launch as validators, as well as through participating in boosting TVL in collaboration with Lido through incentivization initiatives, integrations and much more. We're incredibly excited for this transition with P2P and we look forward to re-engaging with the flourishing Solana community and to align ourselves further with the values of Solana.
Introducing P2P Validator
P2P Validator has been an active participant in the Solana ecosystem since the beginning of Solana, acting as a leading developer and validator across the network with more than $400m in staked assets. In addition to this, P2P has shown tremendous support for the Solana network infrastructure across projects including Wormhole Bridge, Pyth, and Neon EVM.
P2P has pioneered the Proof-of-Stake industry since 2018 and uses its experience and gained expertise to continuously improve the quality of validation. With an overarching focus on decentralisation, P2P has shown exceptional commitment to supported networks as validators, governance participants and more.
Their proficiency as validators has been complemented by their research activities, including extensive analysis on Downtime and Skip Rates, created to add value to Solana's validators performances.
P2P has a dedicated team entirely focused on achieving results to advance the presence of staked assets within Solana, with determination to build a sustainable pool of validators, empower the Solana community and increase staked TVL.
The exact terms and timelines of the transition to P2P can be found here: Lido on Solana - Proposed Transition from Chorus One to P2P.

Our Mission for Solana
Our overarching goals for Lido on Solana are two-fold:
1. Increase Solana Network Decentralisation & Performance
The ultimate goal of the new era of Lido on Solana is to build a sustainable, high-performance validator set, contributing to the decentralisation, stability and performance of the Solana chain.
A number of factors fall within this category, including:
Provide a public dashboard with open validator performance data.
Provide clean onboarding instructions to increase validator set
Expand the number of validators in the cluster and bring new node operators to Solana
Сontinuous improvement of validators parameters based on metrics
Provide a validator education program to improve the skills and level of node operators.
Ensure an adequate profitability on validators in the pool by balancing the number of validators and stakes in the pool.
2. Grow The Solana DeFi Community Economics
Staked SOL with Lido has grown to $300+ million, and with it comes an added responsibility to align ourselves with the values and requirements of the Solana community.
Drive DeFi TVL through integrations with  value-adding protocols (Aldrin, Apricot, Atrix, Francium, Friktion, Jet, Katana, Larix, Mercurial, Orca, Port, Psy Finance, Raydium, Saber, Solend, Tulip, Zetamarkets).
High rewards and attractive APY's through Lido's incentivisation program.
Improving Solana network onboarding through targeting of non-defi users (NFT, GameFi).
Enhanced community support and engagement through shared research, community calls, grant distribution and more.
Moving Forwards
We have a lot of work to do and we look forward to continuing to grow our presence within the Solana ecosystem.
Together with P2P, Lido is on a mission to add value to Solana users and developers and we have a number of initiatives lined up which we hope will allow us to do this.
Our goal, above all else, remains to preserve the culture, diversity and decentralisation of Solana, and this new era of Lido on Solana paves the way for this.
If you have any feedback, ideas or suggestions, jump in our Discord and let us know.