Lido's stETH Comes To L2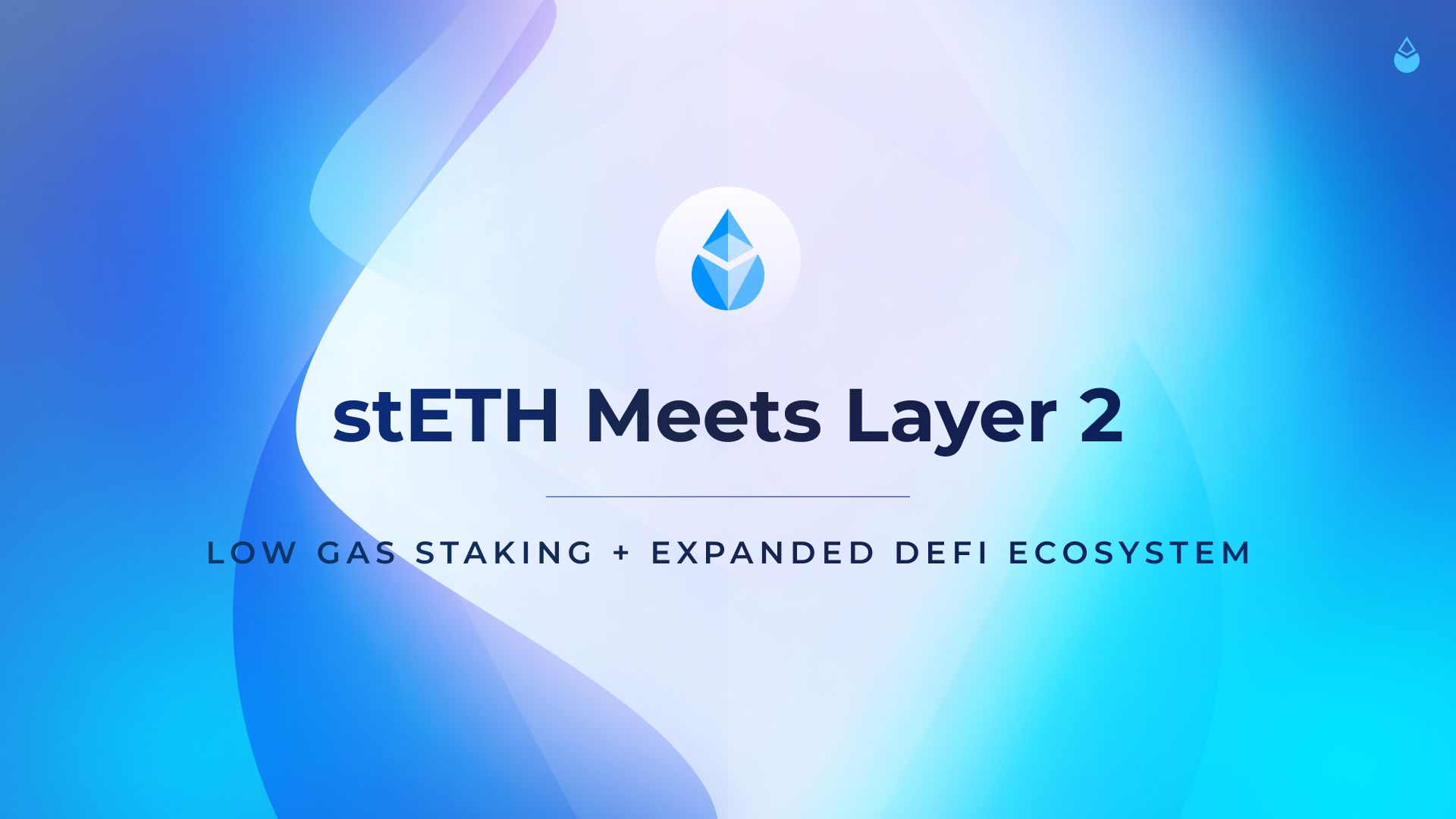 In the spirit of Ethereum scalability, Lido is bringing stETH to DeFi on Layer 2
Summary
Ethereum is scaling, and Lido is following suit. We're beyond pleased to unveil our expansion plans for Lido on L2, starting with the expansion of stETH across the growing L2 DeFi ecosystem.
For Ethereum stakers, this means staking with lower fees and access to a new suite of DeFi applications to amplify rewards.
Lido on L2 is not limited to a particular network or solution. Lido is committed to making Lido's staked-asset tokens widely available throughout Ethereum Layer 2 as it evolves. To that end, Lido has already integrated with Argent to make wstETH available on zkSync users and with Aztec. Now at last we are able to announce that we are working on the next collection of integrations and partnerships that will be unveiled in the coming weeks. Stay tuned.
Lido went live in December 2020, a few weeks after the Ethereum 2.0 Beacon Chain launched. Since then, our goal has been to simplify the Ethereum staking experience by mitigating a number of the challenges associated with the staking experience and democratizing staking for the average ETH holder.
We believe that our expansion to L2 is the next step on this journey to further improve Ethereum staking accessibility. We look forward to further improving access to Ethereum staking.
The Need For Layer 2
Layer 2 (L2) is an umbrella term to describe a specific set of Ethereum scaling solutions. Layer 2 networks serve as an extension to Ethereum to provide it with additional execution capacity. While Layer 2s are separate blockchains, they inherit the security guarantees of Ethereum by maintaining final settlement on Ethereum.
Ethereum has reached the network's current capacity with 1+ million transactions per day and high demand for each of these transactions. The success of Ethereum and the demand to use it has caused gas prices to rise substantially. Therefore the need for scaling solutions has increased in demand as well.
Lido On L2
There are several types of L2s. We believe that in the future a large portion (if not a majority) of economic activity and transaction volume will migrate to both general use and purpose-specific Layer 2 networks. Each of these networks will benefit from or need staking solutions to support their users' economic activities and ensure that all users of Ethereum ecosystem networks have the ability to participate in securing Ethereum.
We will begin by supporting wstETH bridging and staking on Layer 2 networks, with plans to to allow staking of ETH held by users on L2 networks directly from that L2 without the need to bridge their assets back to Ethereum Mainnet, all while taking advantage of reduced network and protocol fees afforded by the L2.
wstETH is the wrapped, non-rebasing version of Lido's stETH. For our initial deployment to L2, we have made the decision to support only wstETH. This is due to a number of reasons, including simplified bridge contracts and ease of integration, both with bridges and general DeFi space. See our explainer on wstETH here for more information on that token asset.
If you're currently holding unwrapped stETH you can wrap your stETH in a few clicks here: stake.lido.fi/wrap.
Moving Forwards
As stated, Lido is network-agnostic, and plans to support stETH on all sufficiently proven Layer 2 networks with demonstrated economic activity, starting out with Arbitrum and Optimism. More information about deployment and timelines will be shared over the coming weeks.
Tune in to the Lido Twitter every Tuesday for more 🏝️