Lido on Polygon - Wave 2 Onboarding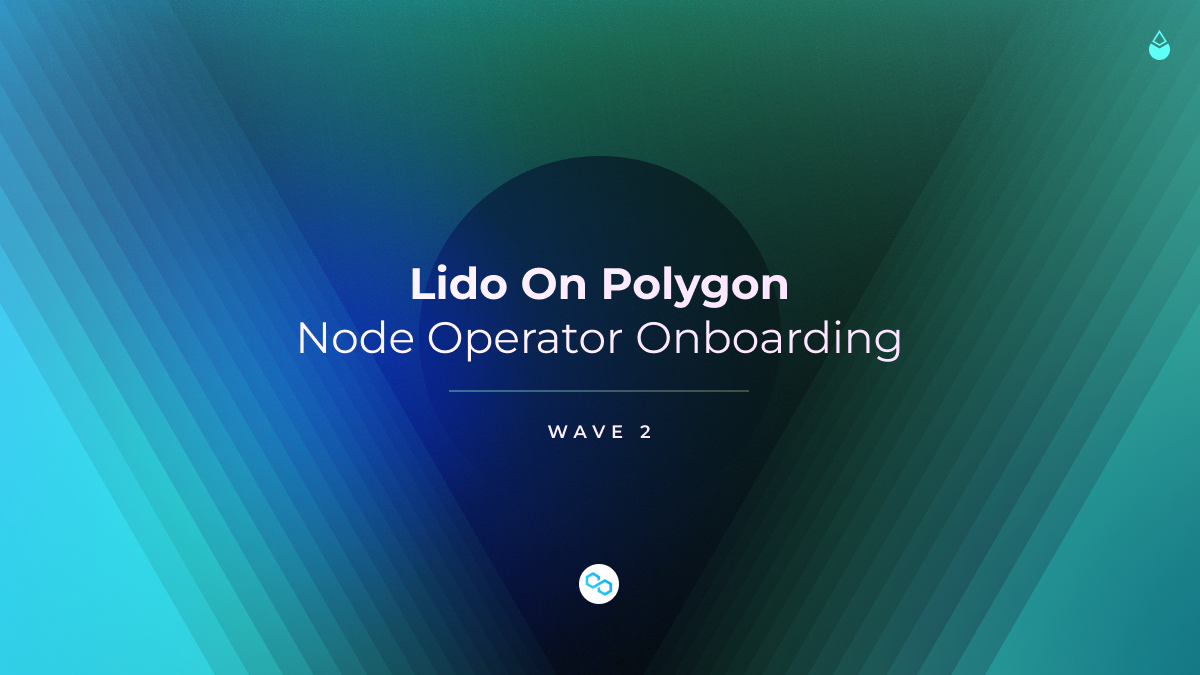 The Lido Node Operator Subgovernance Group (LNOSG) has proposed to the DAO the addition of five new Node Operators for the Lido on Polygon operator set, following the Wave 2 onboarding evaluations.
This onboarding round follows the Lido on Polygon V2 protocol upgrade, which included a number of significant improvements for Node Operators. These changes included more equitably distributing stake for Lido on Polygon Node Operators upon deposits and withdrawals, no longer requiring Node Operators to transfer their validator slot to the protocol, and simplified logic for the Node Operator registry.
Following these changes, and the strong inflows Lido on Polygon has seen year-to-date, a record 43 applications (of which 26 were eligible for inclusion) were received to join the Lido on Polygon Node Operator set. Due to the limited size of the Polygon validator set, Node Operators were deemed ineligible if they are not currently running an active mainnet validator.
After evaluating the applications, the LNOSG suggested that proposing five new candidates for inclusion to the Lido on Polygon Node Operator set was appropriate. This took into account the potential for market volatility and the dilutive impact to existing Lido on Polygon Node Operators from what will be an 83% increase in the number of Node Operators participating in the protocol if the five shortlisted candidates are included.
While the LNOSG is responsible for evaluating the applications received to the protocol for permissioned networks, ultimately the choice remains up to the Lido DAO whether to include all, none, or some of the proposed shortlist.
Proposed Node Operator Candidates
With the Snapshot vote now in progress, Lido DAO members are encouraged to vote and express their opinion regarding the proposed candidates in the onboarding thread on the Lido Research Forum.
Below you can find a description and statement for each of the prospective operators proposed by the LNOSG to join the Lido on Polygon Operator set (listed in alphabetical order).
bountyblok
bountyblok is the easiest way to power your Web3 projects for engagement. With bountyblok you can launch contests & giveaways, distribute NFTs in a few clicks, gift NFTs with personalized email templates, and access enterprise Web3 APIs for secure blockchain integrations.
"We are excited to be proposed to join the Lido ecosystem! The defi space is constantly growing and as an experienced validator on the Polygon mainnet since genesis, we have the know-how and expertise in running mission critical nodes and help power the Lido finance network in this journey."
Bware Labs
Bware Labs is a web3 infrastructure company providing a wide range of ecosystem services such as running validators, indexing services, bridge operators, faucets, snapshot services and API's through our BLAST platform. Their core objective is to improve the developer experience within a blockchain ecosystem while providing the highest-performance infrastructure services.
"We have been working with Polygon for two years now, providing Public API support and running a validator on mainnet at the same time. BwareLabs believes strongly in what Polygon is building and that's why we would be honored to join the Lido Node Operator set."
Everstake
Everstake is a responsible validator trusted by 625k+ users across 70+ blockchain networks. Created by engineers in 2018, it's a self-funded, profitable business employing 125+ people, running over 8,000 nodes for 70+ blockchain protocols, including bridges and oracles. Their team focuses not only on ensuring 100% uptime, but also on benefiting the community and the partners via various activities.
"Being a part of Ethereum and Solana Node Operators sets, we're thrilled to hopefully join, as well, as a Lido operator for Polygon, a blockchain we've been running infrastructure on since December 2020. We are looking forward to contributing further to the Lido ecosystem and supporting it for the best user experience, reliability and security."
Smart Stake
Smart Stake has been providing high quality delegated proof-of-stake validator services since 2019. Smart Stake builds easy to understand and user centric tools for all network participants. Smart Stake has been a Polygon mainnet validator since genesis, contributing to the Polygon ecosystem with analytics dashboards for validator, network, & decentralization metrics.
"Liquid Staking enables exciting opportunities for stakers while securing the network at the same time. Lido has always led from the front in liquid staking. We are proud to be shortlisted as a node provider for Lido on Polygon. Looking forward to continued adoption and success for both Lido and Polygon."
Stakin
Stakin is a non-custodial staking provider for Proof-of-Stake blockchains. Stakin serves institutional crypto players, foundations, custodians, exchanges as well as a large community of individual stakers. Stakin provides secure and reliable Web3 infrastructure on 40+ blockchain networks including Ethereum, Polygon, Cosmos, Near, Aptos and more.
"We are thrilled to join the selected validator set for Lido on Polygon. Lido is a leading staking solution for Ethereum and other blockchains, and being part of their validator set is a testament to our expertise and dedication to the blockchain ecosystem. Polygon is an exciting and fast-growing scaling solution for Ethereum with a thriving ecosystem. We are excited to work with Lido to contribute to Polygon's security and decentralization, and help drive the adoption of staking on Polygon."
Next Steps & Future Onboarding Opportunities
If the Snapshot vote passes as proposed, the five new Node Operators will likely be added to the Node Operator set by the end of May.
While the exact timing of future onboarding rounds will depend on numerous factors, the LNOSG intends to open a future onboarding round for Ethereum Node Operators post the Lido V2 upgrade. Future onboarding rounds for Polygon and Solana are also possible during 2023, though will heavily depend on macroeconomic market dynamics.
Interested in learning more about Lido Node Operators?
The Lido Operator Portal contains detailed information regarding current Lido Node Operators in addition to an overview of the Node Operator application process.