Lido Monthly Report: October 2023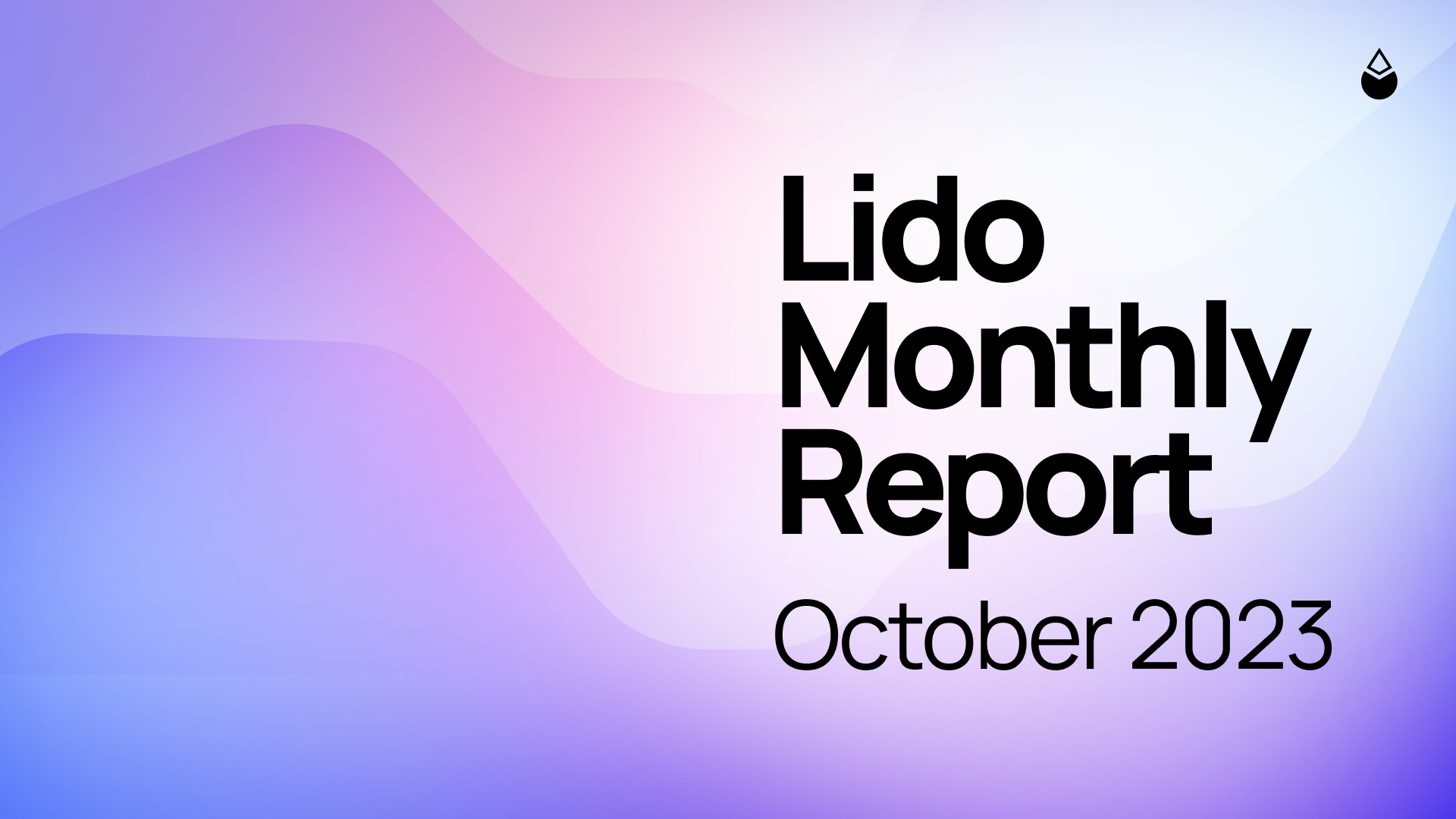 Welcome to the October edition of the Lido Monthly Report, a comprehensive source for insights into all of the latest developments.
This report reviews another month of noteworthy metrics, new collaborations, and ongoing developments that highlight the overall performance and progress of the Lido protocols.
TLDR:
Lido protocol TVL up +9.13% to $16.17B.
Unique ETH depositors up 6.75% to 195,591 stakers.
(w)stETH across DeFi up 3.24% to 3.19m stETH (approximately 36% of stETH).
DAO proposal covering the launch of SimpleDVT in collaboration with SSV Network and Obol passes, paving the way for streamlined onboarding of Lido Node Operators.
Deployment of wstETH Base bridge passes, bringing Lido's staked ETH to yet another Ethereum L2.
Protocol Performance
In this section, you will find key metrics that offer valuable insights into the overall performance of the protocols over the month of October.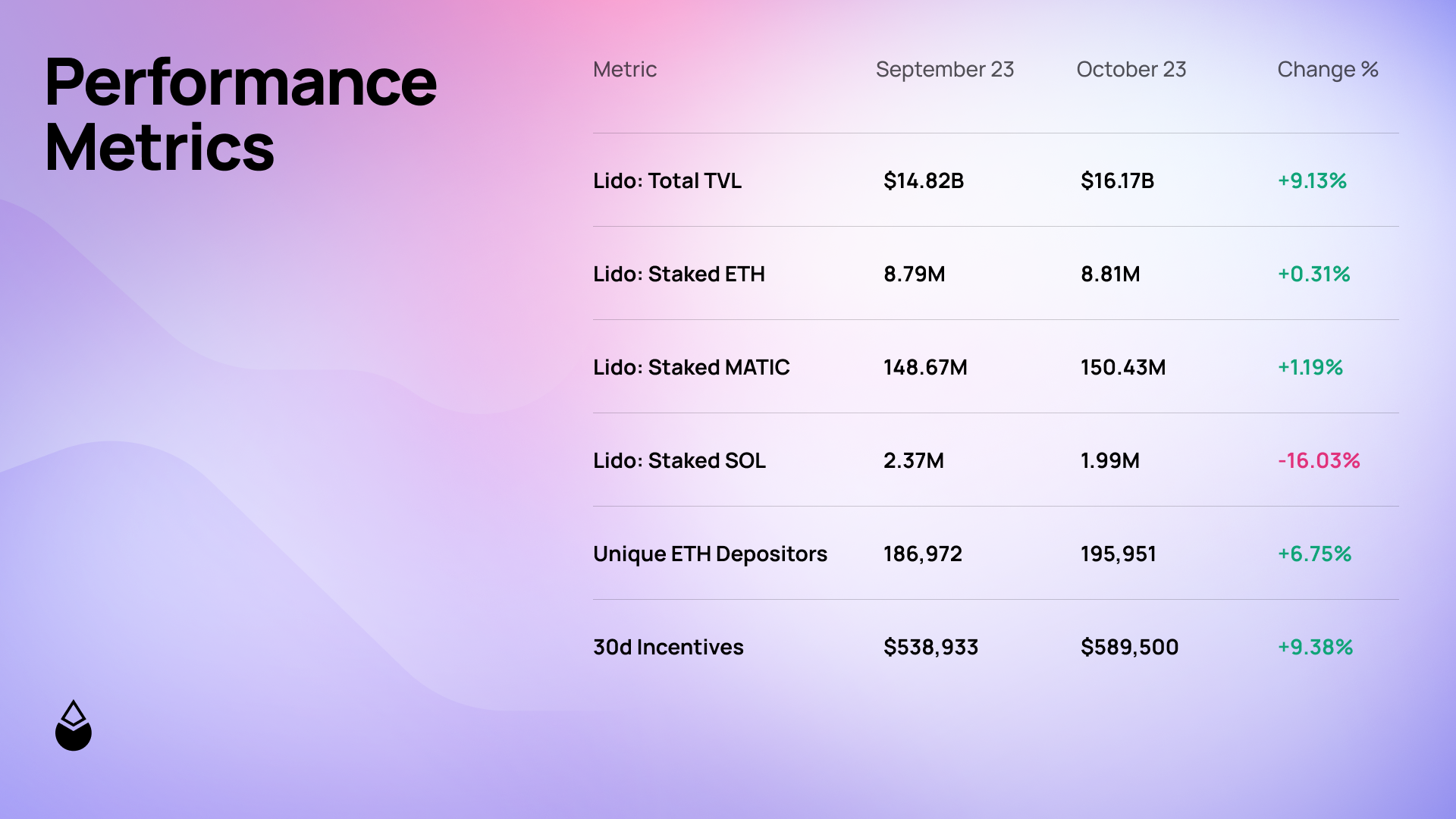 Additional Notes
Despite a relatively minor rise in net ETH deposits - resulting from increased full withdrawal requests - protocol TVL experienced a significant surge due to ETH's positive price performance.
Following the DAO governance vote to sunset the Lido on Solana protocol, there has been an anticipated increase in withdrawal requests for staked SOL.
With almost 9,000 ETH stakers opting to use the Lido protocol for the first time this month, it seems poised to surpass the 200,000 milestone by the end of November.
The continued rise in incentives has come as the result of the Liquidity Observation Lab - the relaunched reWARDS Committee - with its new liquidity incentives programs.
Treasury Composition
In this section, you will find an overview of the changes in the Lido DAO Treasury over the month of October, emphasising the DAO's commitment to transparency.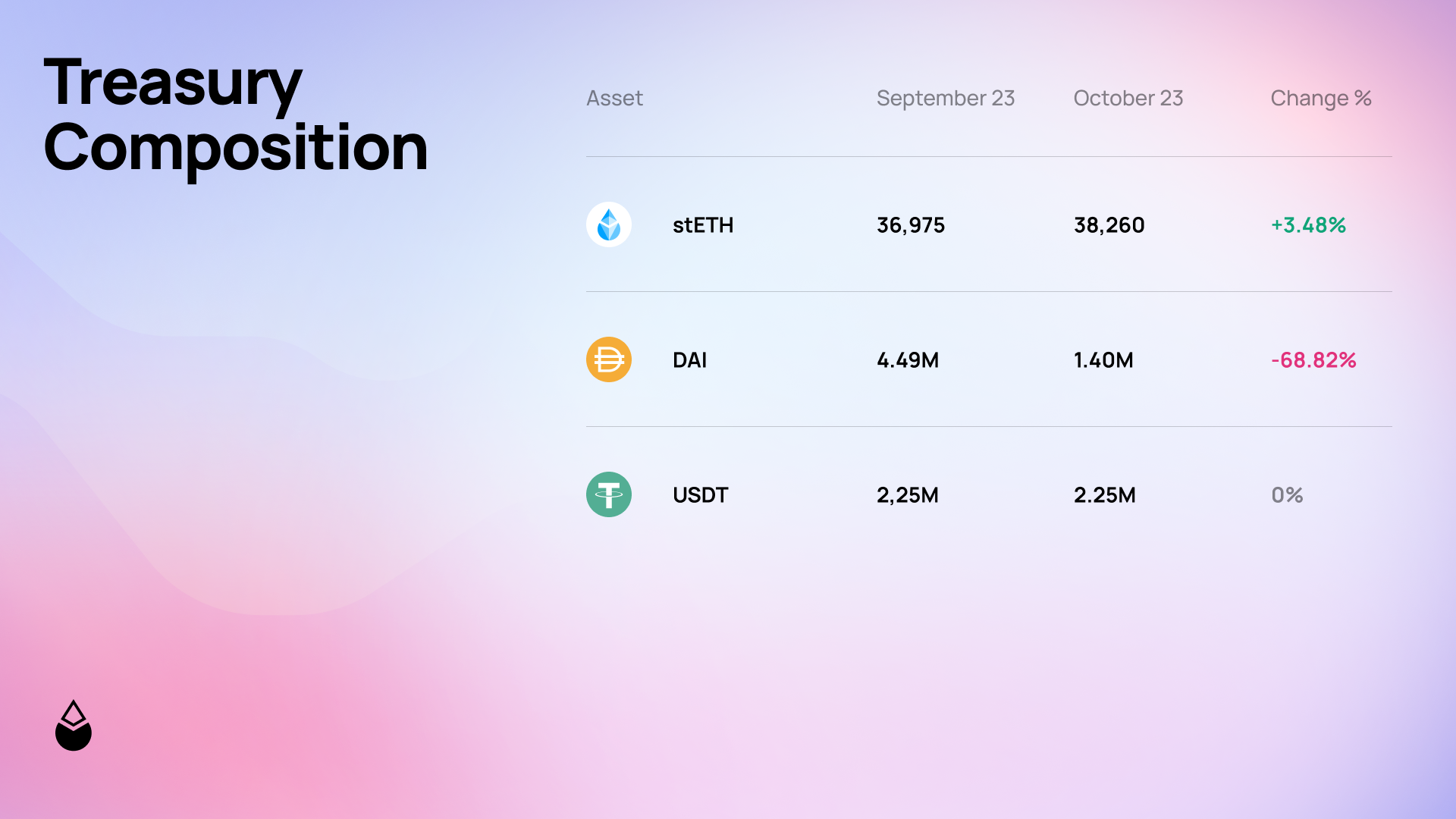 Additional Notes
This Treasury Composition excludes LDO holdings.
The reduction in DAI occurred as part of ongoing distributions to DAO-approved grantees.
stETH Performance
In this section, you will find key metrics that offer valuable insights into the overall performance of the Lido's Ethereum staking token over the month of October.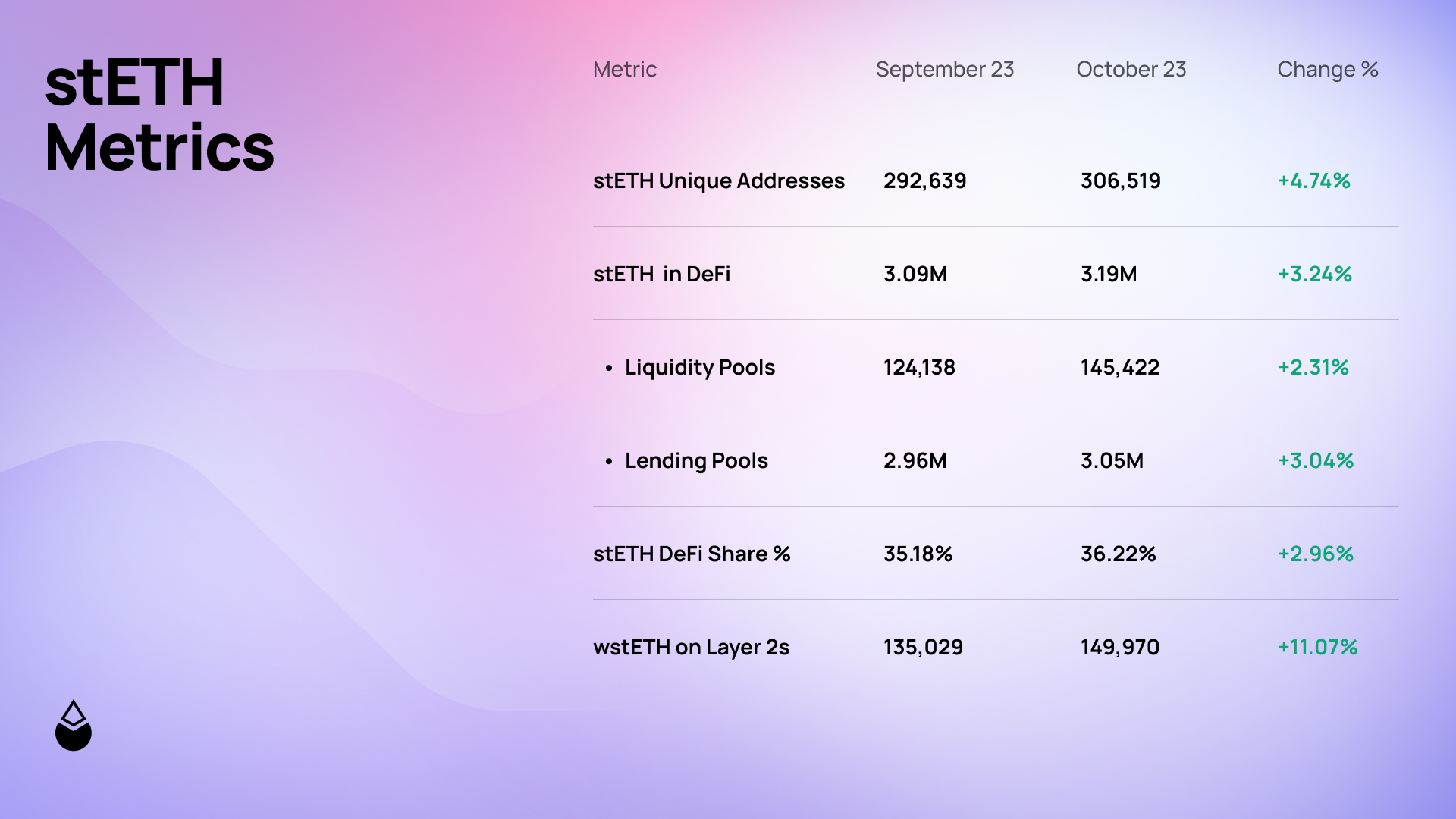 Additional Notes
It is important to note that these metrics also include wstETH - the wrapped, non-rebasing version of stETH.
The persistent appetite for stETH as collateral in lending pools has driven the total stETH locked in lending protocols to exceed 3M, marking a 97% increase since the beginning of the year.
wstETH witnessed a sustained surge in demand on Layer 2 blockchains, with wstETH deposits on Arbitrum and Optimism bridges increasing by 14.43% and 6.67%, respectively.

Governance
In this section, you will find notable proposals that have arisen from the Research Forum, along with their advancements through the voting processes on Snapshot and Aragon.
Snapshot
Among the various Research Forum proposals considered and deliberated upon during the past month, one proposals was subjected to a Snapshot vote.
Lido on Solana - Next Steps: details
This proposal sought 1.5 million DAI to fund 12 months of operations for Lido on Solana development contributors (p2p). The proposal outlined two potential options:
Continue funding Lido on Solana to sustain operations.
Sunset Lido on Solana to prevent losses.
Of these options, the final results revealed that 92.78% of votes were in favor of sunsetting the Lido on Solana protocol.
Proposal Outcome: Successful ✅
Aragon: Omnibus Votes
Following the successful Snapshot votes, a selection of these proposals were consolidated into one Omni-Vote within Aragon's 2-Phase voting process:
Vote #165 : details
This on-chain vote primarily included:
Onboarding seven new Node Operators to the Lido on Ethereum NO Set, as part of the Stage 2 for Wave 5.
Supporting Jump Crypto's voluntarily exit from the NO Set.
Discontinuing the stETH <> bETH Anchor integration passed in June 2022.
Proposal Outcome: Successful ✅
Community
In this section, you will find recaps of vital community gatherings, with a particular emphasis on the Node Operator Community Calls. These recaps serve to capture and share insights from these gatherings, fostering active engagement and meaningful discussions within our expanding community.
NOCC Call #10
The latest Node Operator Community Call covered several important topics:
Launchnodes released a post-mortem report on the key duplication issues that resulted in the slashing of 20 Lido on Ethereum validators on October 11. The team discussed this report, sharing their insights and lessons learned from the incident.
Gattaca's new Titan Relay solution, a neutral block builder on Ethereum, was presented. It's open to all builders and geo-distributed, currently in private beta on Mainnet and Goerli, with plans to be open to everyone this week.
Will, a contributor to the Lido DAO NOM Workstream, explained the Simple DVT module proposal, emphasising its significance for decentralising and securing the Ethereum ecosystem. The proposal will utilise DVT solutions by providers like Obol Network and SSV, involving solo and small staking teams. There have been two DVT testing rounds with both providers, with an upcoming third round scheduled on the Holesky testnet. During the discussions, various economic and risk factors were considered, and an action plan along with an estimated timeline was presented.
For more details, see below for the full call:
Collaborations
In this section, you will find all the collaborations that have been established in the past month, as leading companies and protocols integrated with the Lido protocols, further expanding the reach and impact of its liquid staking tokens.
Integrations
Lido's wstETH is making its way to Base, with the passing of a recent Snapshot proposal which will see the Lido DAO take ownership of a canonical bridge deployed by Beefy and Kyber.
Sommelier, an LSTFi protocol with the third-largest ETH LST vault in DeFi, launched its Turbo stETH automated vault.
Matter Labs has announced its intentions to introduce wstETH to the zkSync Era Mainnet. For detailed information regarding their proposal for wstETH deployment, you can access it here on the Lido Research Forum.
stMATIC is officially live on the USDC Polygon market in Compound III.
Symbiosis, the cross-chain engine and liquidity protocol, has successfully integrated with the Lido protocol, now enabling cross-chain zaps for LDO, stETH, wstETH, and stMATIC.
Extra
Hasu, a Lido DAO strategic advisor, discussed his proposed 1- and 3-year goals for the protocol in this Twitter Spaces event.
Security remains a paramount priority for Lido DAO, exemplified by its unwavering dedication to conducting security audits and reviews.
Lido Community Lifeguard Eridian sat down for a fascinating discussion with Messari's Stephy in the fourth episode of the Community Staking Podcast.
As Lido DAO contributors continue to work on a Community Staking module, the recent LidoBox designs paint an exciting picture for what the future may hold for solo stakers.
In a recent Staking Waves blog post, Lido Intern narrates a story that sheds light on the purpose and pivotal role of the Staking Router in shaping the future direction of the protocol.
Looking Ahead - November 2023
As Istanbul hosts both DevConnect and the Staking Summit, keep an eye out for Lido DAO contributors who will be actively participating and delivering presentations at these events.

The Lido community is eagerly anticipating a series of proposals going to Snapshot and Aragon votes in November. These proposals include wstETH deployment on Base, the Simple DVT module, and Lido DAO's 3-Year Goals.
Conclusion
To conclude, another chapter is brought to a close in the Lido Monthly Report. To remain continuously updated, be sure to subscribe to receive all upcoming reports. Furthermore, to stay connected with the growing community, follow Lido DAO through the various channels provided below.
Resources