Lido Monthly Report: June 2023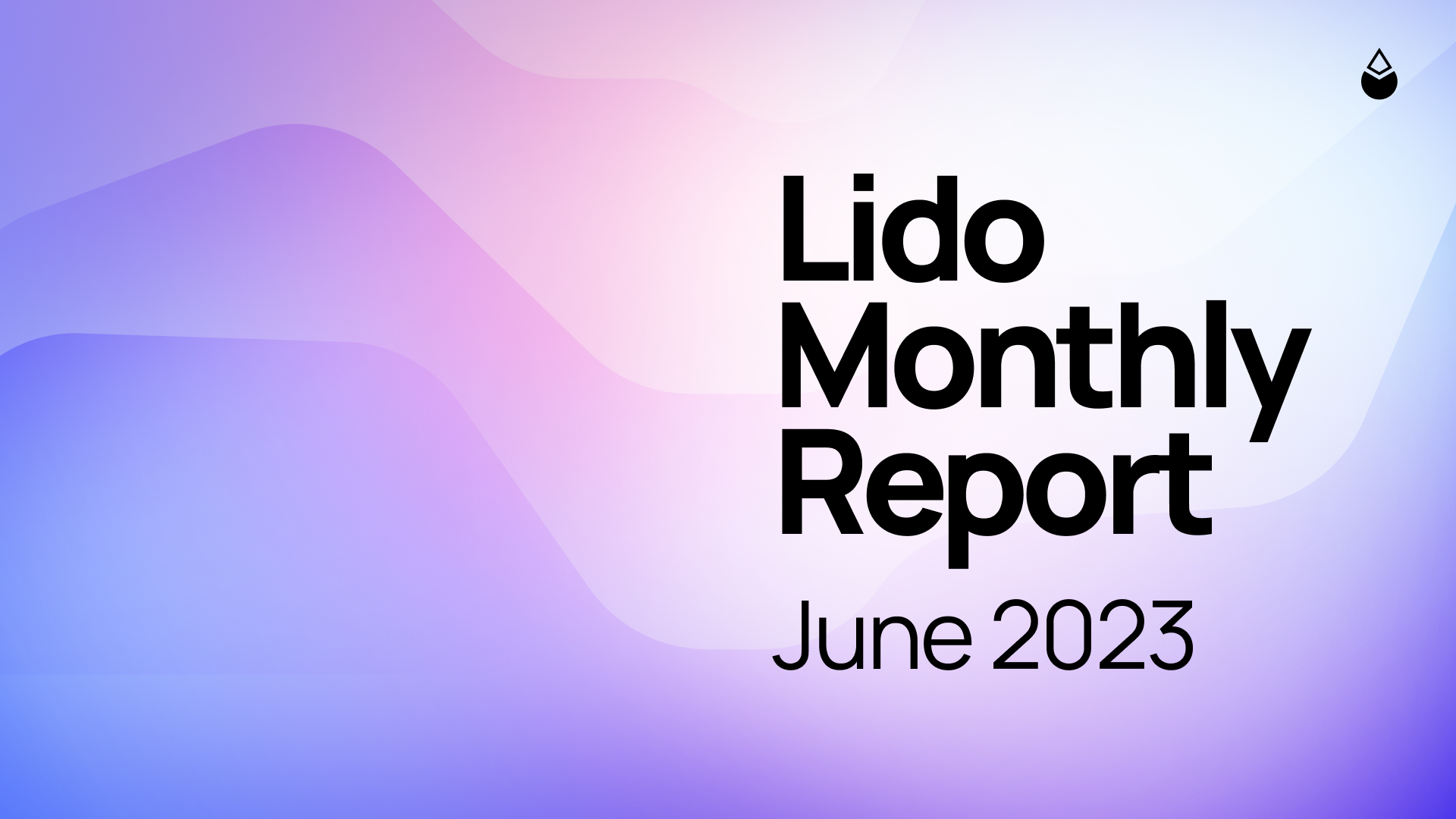 Welcome to the inaugural edition of the Lido Monthly Report, your go-to roundup for the latest updates on Lido DAO's activities and advancements.
Each month, you'll receive comprehensive insights into Lido DAO's upgrades, performance metrics, notable achievements and more, and kept informed on the road to growing the Ethereum staking ecosystem.
Protocol Performance
In this section, you'll see important performance metrics that highlight the continuous growth of the protocol, offering valuable insights into Lido DAO's overall performance.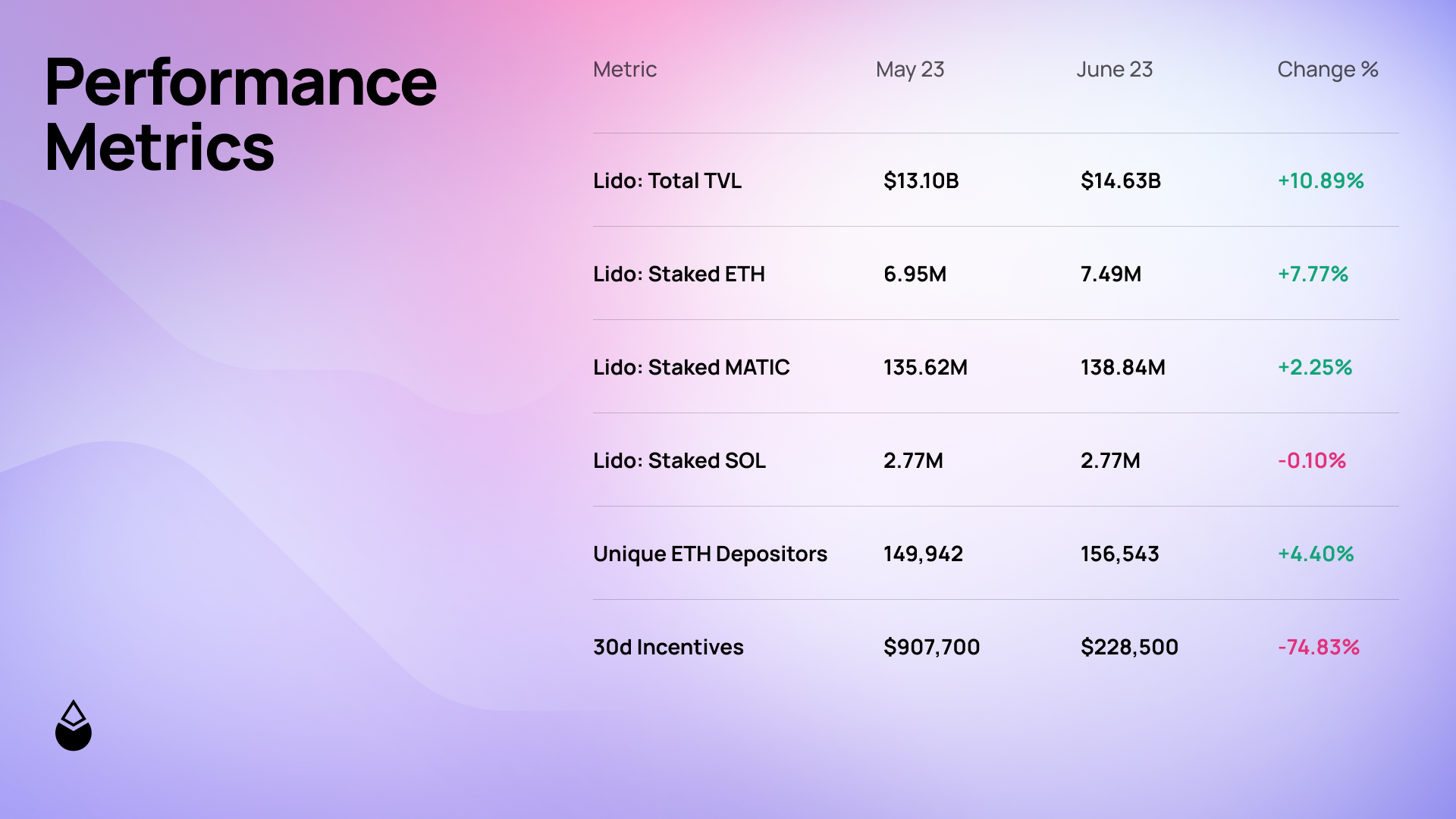 Additional Notes
Throughout the month of June, Lido DAO experienced a significant dominance of ETH deposits over withdrawal requests. This trend led to a noteworthy net increase of 7.77% in staked ETH through the protocol. It is particularly promising to observe that over 6,600 stakers chose to utilize Lido DAO for the first time, which certainly contributed to this positive growth.
In May, a proposal to transition LP incentives from LDO tokens to stETH was successfully implemented. This change resulted in the reduction of LDO incentives to zero throughout June, aligning the incentive structure with the usage of stETH. However, no new stETH incentives were issued during the month - resulting in only ARB and OP incentives that Lido DAO had received from the Arbitrum airdrop and Optimism grant respectively.
Treasury Composition

In this section, you'll see an overview of the changes in the Lido DAO Treasury over the month, emphasizing Lido's commitment to transparency.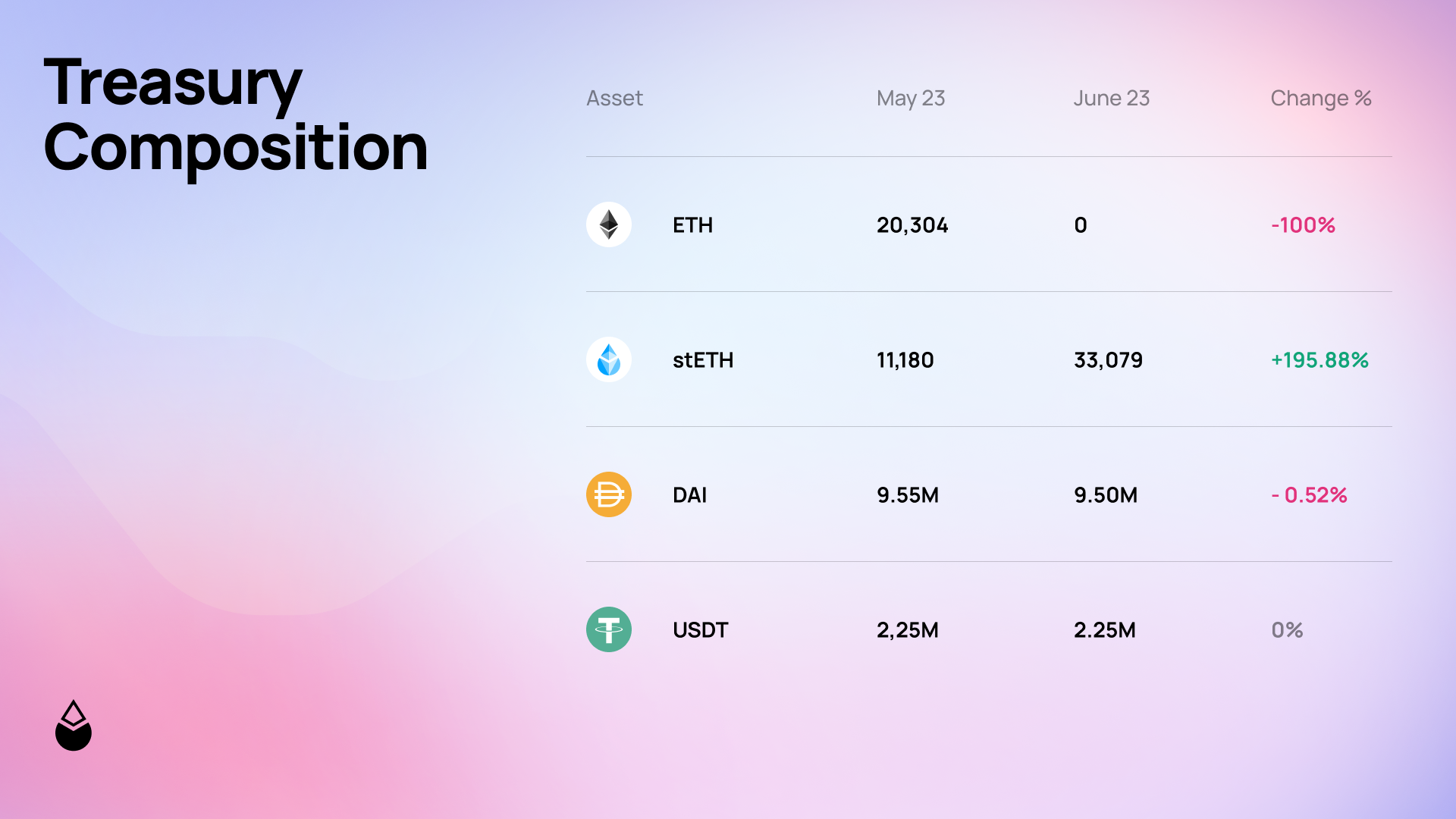 Additional Notes
This Treasury Composition excludes Lido DAO's LDO holdings.
In a noteworthy development, a successful proposal was implemented at the end of June, leading to the staking of all the ETH holdings (approximately 20,304) in the Lido DAO treasury for stETH. Consequently, the ETH holdings in the treasury decreased to zero in the month of June, with the amount of stETH increasing accordingly.
Governance
In this section you'll see significant proposals that emerged from the Research Forum and their progression through the voting process on Snapshot and Aragon.
Snapshot
Among the various Research Forum proposals considered and deliberated upon during the past month, the following five proposals were subjected to Snapshot votes.
1. Lido Community Lifeguards Initiative: Details
2. Gas Supply Committee Nomination: Details
3. Tiered Rewards Share Program: Details
4. Align Lido's Vibe (Purpose, Mission, Vision): Details
5. LEGO Grant To Launchnodes For Lido Impact Staking: Details
Aragon: Omnibus Votes
Following the successful Snapshot votes, a selection of these proposals were consolidated into two Omni-Votes within Aragon's 2-Phase voting process:
1. Vote #160: Details
2. Vote #161: Details
Community
In this section you'll see key community calls, with a special focus on the Node Operator Community Calls, where Lido DAO promotes engagement and discussions within the growing community.
NOM Call #7
The latest Node Operator Community Call covered several important topics:
The Lido V2 rollout was discussed, highlighting features like the Oracle Split, Lido Buffer and Withdrawals, which enhance the efficiency and functionality of the platform.
The Ethereum NO Onboarding Wave 5 was announced, aiming to diversify EL & CL clients and improve server diversification, with priority given to NOs outside the US and EU.
An update on VaNOM revealed insights into stake distribution on the network, and a metrics report for Lido on Polygon was shared. Troubleshooting missed proposals was addressed, presenting an analysis methodology by Kiln Finance and CryptoManufaktur.
Lastly, Rated.network conducted a comprehensive study on Ethereum solo staker classification, revealing that 6.5% of validators fall into this category.
For more details, see below for the full call:
Collaborations
In this section you'll see all the exciting collaborations that have been established in the past month as Lido DAO joins forces with leading companies and protocols, further expanding the reach and impact of its liquid staking tokens.
Announcements
At the start of the month, Curve Finance successfully passed a vote to implement a wstETH market, establishing a substantial 150 million crvUSD debt ceiling. Following this milestone, wstETH has remarkably accounted for approximately 70% of the total crvUSD collateral.
Morpho Labs announced that the wstETH/ma3wETH pool on Balancer has been successfully voted in as a Core Pool. This significant development enhances the benefits and opportunities for Balancer LPs, veBAL holders, and the Balancer DAO community.
Lido and PythNetwork have joined forces to provide real-time, permissionless stETH price feeds to over 20 blockchains.
Synthetix proudly introduced leverage trading for stETH on Synthetix Perps, becoming the first platform to offer stETH perps.
Raft officially launched, introducing $R as a decentralized USD stablecoin that is uniquely backed solely by stETH. With a capital-efficient lending/borrowing approach and an improved liquidation mechanism, Raft distinguishes itself in the stablecoin landscape.
Extra
Following Ethereum's Shapella upgrade, Lido Protocol was technically able to perform a key rotation ceremony in which validator withdrawal credentials were converted from a 0x00 to 0x01 withdrawal contract. As a result of this successful conversion, Ethereum Foundation upgraded Lido Protocol to 'Trustless'.
2. stETH surpassed Cardano to become the 7th largest cryptocurrency by market cap.
3. Lido DAO TVL surpassed $14b for the first time since May 2022, further solidifying its position as the #1 DApp by TVL.
Looking Ahead - July 2023
ETHCC in Paris is just around the corner and Lido, along with many of its DAO contributors, are excited to be there. Don't forget to visit the Lido booth, where you can grab some awesome merch, and stay tuned to Twitter for updates on meetups and exciting announcements throughout the week.
Mark your calendars for NOM Call #8 on 25th July, as you're invited to join the monthly Lido Node Operator Community Call where you can gain valuable insights into Lido Node Operators and stay informed with their latest developments.
As the popularity of stETH expands within the DeFi ecosystem across various blockchains, collaboration opportunities with DApps continue to flourish. Stay updated on Twitter for exciting announcements on new collaborations that will further enhance the utility and reach of stETH.
With the Staking Router performing as anticipated, Lido's contributors are actively working on new validator modules, paving the way for unlocking the full potential of the Staking Router. Exciting advancements lie ahead as DAO contributors continue to enhance the functionality and capabilities of the protocol, so keep an eye out for upcoming updates.
Conclusion
As the first edition of the Lido Monthly Report comes to an end, DAO contributors reflect on the significant progress made by Lido DAO in the past month. From impactful collaborations to outstanding performance metrics, the commitment to excellence in the liquid staking space remains unwavering.
Lido DAO contributors remain focused on the mission to build a liquid staking protocol to empower Ethereum users and to help unlock the full potential of crypto while contributing to the security and decentralization of blockchain networks.
Stay tuned for more exciting updates and developments as Lido continues to make progress on this incredible journey.
Resources