Lido Development Update / 1 Month of Lido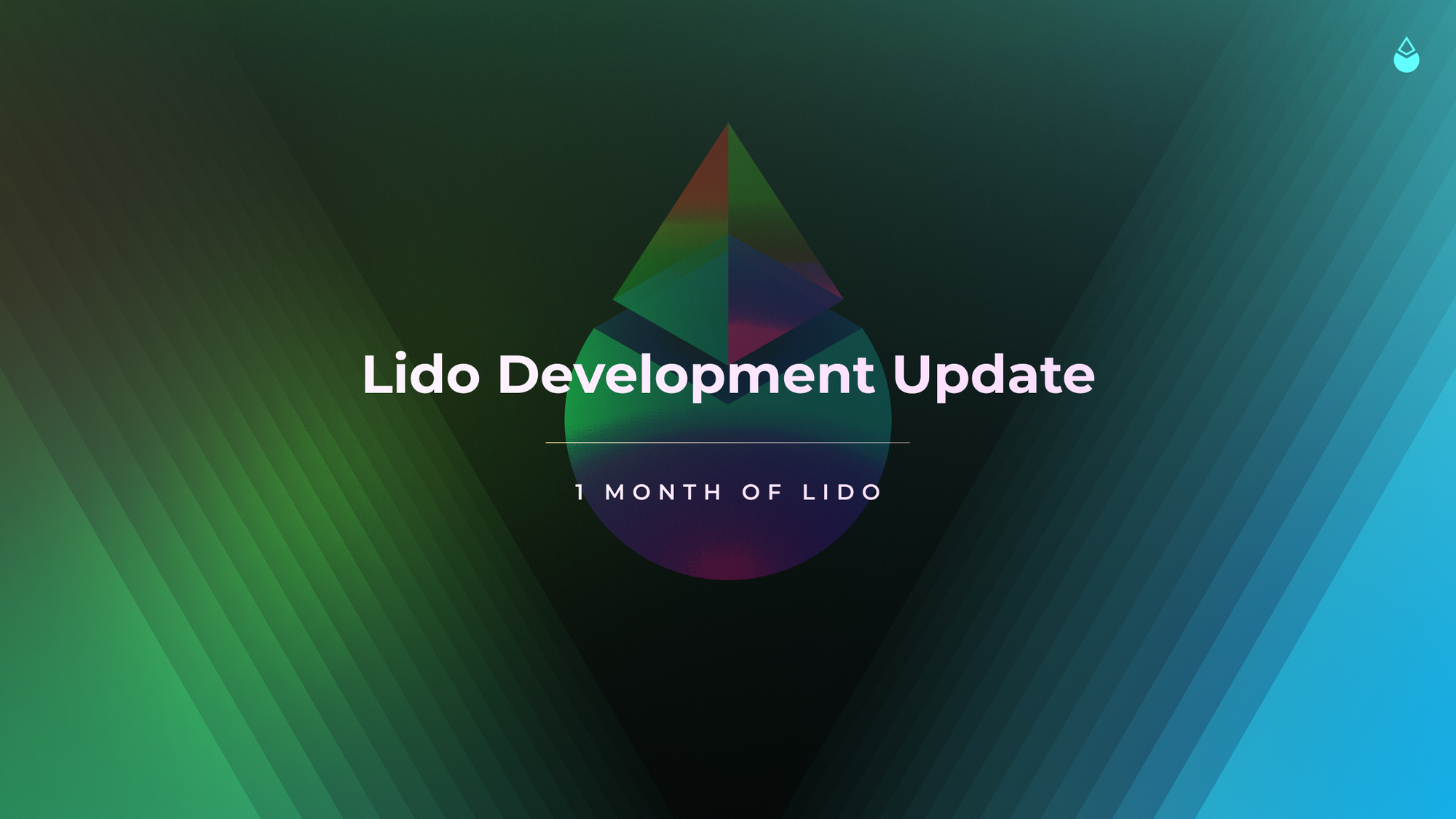 Today marks the one month anniversary since the launch of Lido. 🏝️
It has been an amazing month and we have been overwhelmed by the continuous support we have received from the Ethereum community.
Below we have collected a few of the most exciting developments which have taken place over the past month.
Staking
It has been exactly one month since we launched liquid Ethereum staking using stake.lido.fi.
The process is simple - instead of running complex validation infrastructure, stakers can send their ETH to the Lido smart contracts to manage staking for them. In exchange, users receive stETH - a token representing their staked ether - which they can send and trade as they would any other token. stETH undergoes a balance rebase daily (at 12pm UTC) where a user's balance is updated with their Ethereum staking rewards.
Over the last 30 days, we have seen:
76,600.35 ETH staked with Lido, with a total USD value of $93,454,474.41, positioning Lido as the leading liquid Ethereum staking solution.

1,816 users staking their Ethereum with Lido, with approximately 21.64 stETH in rewards paid out to stakers.
The exchange rate between ETH and stETH has remained strong. Following a few days of minor fluctuations, the peg is now steadily returning back to 1:1 across key markets.
Lido's validators activated, allowing stETH holders to earn daily Ethereum staking rewards.
A public Lido dashboard added to Nansen.ai, allowing users to track Lido staking metrics in real-time.
The feedback since launch has been fantastic and we are eager to build upon this initial success.
Integrations
A core aspect of Lido and stETH is the multitude of integrations which offer stakers additional rewards on their staked ether. With these integrations, users can participate in the DeFi ecosystem whilst still accruing Eth2 rewards earned from staking during Phase 0.
In the past month we have seen successful integrations across Curve, 1inch, Argent and a number of other platforms, and we're looking forward to further integrations across e.g. Aave, Maker and similar platforms in the near future.
DAO
The Lido DAO launched last month and has been actively voting across a number of topics. Stop by research.lido.fi to share your thoughts on our governance discussions and don't hesitate to chime in if there's a topic you find relevant.
Lido went through a withdrawal key ceremony where various participants of the DeFi space engaged in improving the security infrastructure of Lido.
Lido's governance token - LDO - was distributed to DAO members, developers, backers, key holders and early stETH adopters.
The Lido DAO successfully completed voting across 39 unique proposals related to node operator additions, validator numbers, user airdrops and token initiatives.
An LDO airdrop was voted through by the Lido DAO distributing 0.4% of total LDO supply to early Lido stakers.
A vote was passed to distribute 0.5% of total LDO supply to reward stETH liquidity providers on Curve across a 30-day period (ending February 13th).
There's an ongoing discussion of a transparent, predictable emission schedule for LDO to improve clarity surrounding LDO issuance.
Lido is discussing topping up Ethereum stakers with LDO tokens to counteract an initially low staking rate.
The Lido Node Operator Admission ceremony is under development with the key admission criteria being finalised.
A number of validators submitted proposals to participate as node operators for Lido: P2P Validator, Chorus One, AlphaVirtual, Everstake, blockscape, InfStones, FreshLido.
Community
We've seen a number of fantastic community initiatives implemented this month, ranging from innovative UIs and comprehensive liquidity guides. We've summarised the best below:
Media
The Month Ahead
It's been a thrilling month and there are no signs of Lido slowing down. There are a lot of exciting things to come in the month ahead with a focus on integrations and growing the liquidity infrastructure surrounding stETH.
In the meantime, head to Curve to purchase stETH at a slight discount and contribute liquidity to the Lido ecosystem. In case you missed it, check out our guide to using Curve: How To: Providing stETH liquidity via Curve.
Resources