Lido Development Update / 3 Months of Lido / Lido hits $786.2m in TVL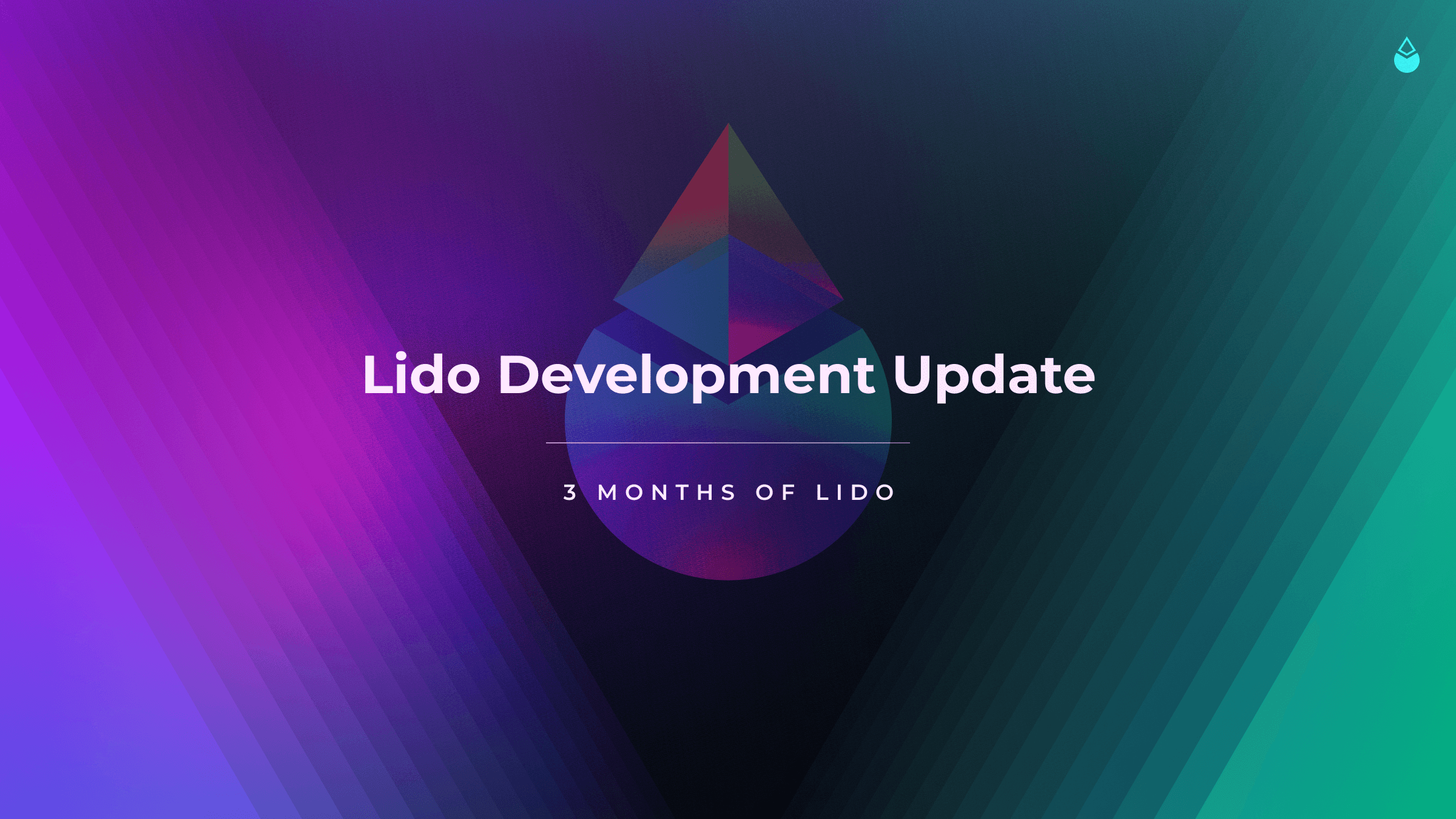 March was an exciting month for Lido driven largely by the launch of liquid staking on Terra in collaboration with the Terra/Anchor team. This launch signalled the expansion of Lido from an omni-chain liquid staking platform to a multi-chain protocol, paving the way for further chain expansions moving forward.
On the DAO side we have been working on the optimisation of processes surrounding the onboarding of new validators - both for Terra and Ethereum - and establishing a system of deploying grants to encourag e community developments. More on this to be shared in the coming days. With integrations our focus has been on ARCx - deploying stETH as a collateral asset - whilst working towards the inclusion of stETH across Bancor, Compound and Cream.
Our goal for Lido is to create a suite of staked assets which represent the backbone of their respective networks, built with composability and interoperability at its core, bringing the benefits of staked ETH to as many entities as possible.
Staking
This month Lido launched liquid staking on Terra in collaboration with Anchor and Terra, bringing liquid staking to the Terra ecosystem in the form of bLUNA - a staking token of Terra's native LUNA staking. bLUNA tokens are pegged 1:1 with LUNA, and makes staked LUNA assets liquid and allows for their use as collateral to mint e.g. UST on the Anchor.
Just two weeks after launch, 21,847,632 bLUNA have been minted with a dollar value of $412,393,214. This has been a fantastic achievement for Lido and Terra and is a testament to the usability and value-add of liquid staked assets.
We're excited for the number of opportunities which this integration brings with it. On the one hand we have the number of integrations possible to expand the scope of bLUNA. Moving one step further we have opportunities related to the use of stETH on the Terra blockchain, deploying staked ETH as a collateral asset to unlock bonded staking positions and mint/borrow assets including UST. This creates an incredibly exciting array of opportunities for the cross-chain applicability of Lido's staked assets.
At time of writing 215k ETH/stETH is staked in the Curve Finance pool (approximately $414m) , 7.32k on ARCx (approximately $13.2m) and 646 stETH ($1.19m) are on 1inch.
The total amount of ETH staked with Lido is now 188,944.25 ETH, with a total USD value of $319,132,521.95. This is up 4.4% from month 2 (180,998.68 ETH).
4,171 stakers are now using Lido to stake their Ethereum, up 24.09% from month 2 (3,361). The average amount staked per user is 45.29 ETH.
This month Lido has paid out 1163.82 stETH in staking rewards, bringing the total rewards up to 1516.6 stETH.
Integrations
Lido integrated with ARCx to allow for stETH to function as collateral to mint STABLEx tokens - a stablecoin native to the ARCx platform. STABLEx borrowed through an stETH loan can be pooled with USDT/USDC/DAI in a Curve Metapool to farm ARCx, as well as to farm up to 500,000 LDO which has been allocated from the Lido treasury. After just one week the ARCx pool had +$10m worth of stETH as locked collateral.
Lido's LDO token was listed on DeversiFi initially with an ETH market. DeversiFi is an L2 exchange built  for secure, high-speed & gas-free token trading. You can trade the market here: app.deversifi.com/LDO:ETH. DeversiFi proposed the listing via research.lido.fi using LDO from the Lido DAO Treasury to fund the listing and seed the market. We're incredibly excited about this listing and the following stages which will see the addition of stETH onto DeversiFi, as well as an incentivised farming program which will see ETH stakers on DeversiFi rewarded with additional LDO for contributing liquidity.
Lido was integrated into the Gnosis Safe wallet allowing for direct staking from the security of the Gnosis multi-sig wallet. With almost 2m ETH stored across Gnosis safes, this integration represents a significant jump towards simple and safe Ethereum staking.
Staying on the topic of integrations, proposals have been developed to integrate Lido and our stETH token into both Cream and Compound. These integrations are a sign of what Lido is all about - the development of staked ETH as a building block for the remainder of the DeFi space to expand upon - e.g. using your staked ETH as collateral for a loan on Compound. We're incredibly excited about what these integration proposals hold and we look forward to communicating their progress to the wider DeFi space.
DAO
On the governance front, the Lido DAO voted on a number of proposals intended to grow the Lido space and improve the staking experience for Ethereum holders.
The Lido DAO voted for continuation of Curve staking rewards, distributing 0.5% of LDO supply to Curve stETH/ETH LPs over a 30 day period. This is the 3rd time this initiative has passed and it has proven successful with regards to growing the liquidity surrounding stETH.
Additionally, the DAO voted to accept a DeversiFi listing proposal and the allocation of 500,000 LDO to seed the initial LDO/ETH market and subsequently reward LPs on their upcoming stETH/ETH market
This month the Lido DAO also introduced the Lido Node Operator Subgovernance Group which is focused on the addition, performance, and removal of node operators within the Lido DAO. The Subgovernance Group identified four node operators with values and performance history which matches that of the requirements of the Lido DAO and all identified node operators were successfully voted in by means of a Snapshot vote.
Community
On the topic of the Ethereum community, the Lido DAO agreed to cast a vote to signal support for EIP-1559 to mitigate fee volatility and improve Ether value accrual.
To commemorate the launch of Lido's liquid staking on Terra, Lido CTO Vasiliy Shapovalov livestreamed with CryptoCobie and Do Kwon, founder of Terra.
We also published an article on liquid staking, its position relative to self-staking and exchange-staking, as well as what benefits users' may be able to realise through a staking protocol like Lido. Check it out and let us know your thoughts:
The Month Ahead
The focus of Lido for the foreseeable future is the growth of integrations both across supported chains (Ethereum, Terra) as well as cross-chain integrations to grow the presence of Lido across the blockchain ecosystem. This includes future liquid staking with other blockchains, similar to LUNA/bLUNA and ETH/stETH, as well as enhanced DeFi integrations (e.g. stETH on DeversiFi).
On the community front we look forward to presenting a number of changes. The Lido website will be updated to reflect our growing ecosystem with support for Luna staking, the addition of an stETH reward dashboard, reward calculator tools and much more. These will be unveiled in the coming weeks. Further steps will also be taken to enhance the staking experience across existing networks, with a potential example being the launch of insurance for staked bLUNA tokens.
Adding to this we will be presenting a variety of new community initiatives including Developer Demos (with input from the Ethereum dev community!), Telegram AMAs/Q&As to contribute to improved education within the staking economy, and the launch of new Ethereum-focused content to shine a light  on the fantastic developments taking place within the network.
How you can help?
Wherever possible and relevant, introductions made to the possible parties would be of great value:
Projects interested in integrating stETH or bLUNA to allow their users to stake directly through their platform. These include exchanges, wallets, farms, aggregators and portfolio management protocols.
Talented individuals that want to get involved with Lido and work on the growth of Lido and associated ecosystem partners. We are expanding across all functions and any individuals across development, marketing, product and more will be welcomed with open arms.