Lido Development Update / 2 Months of Lido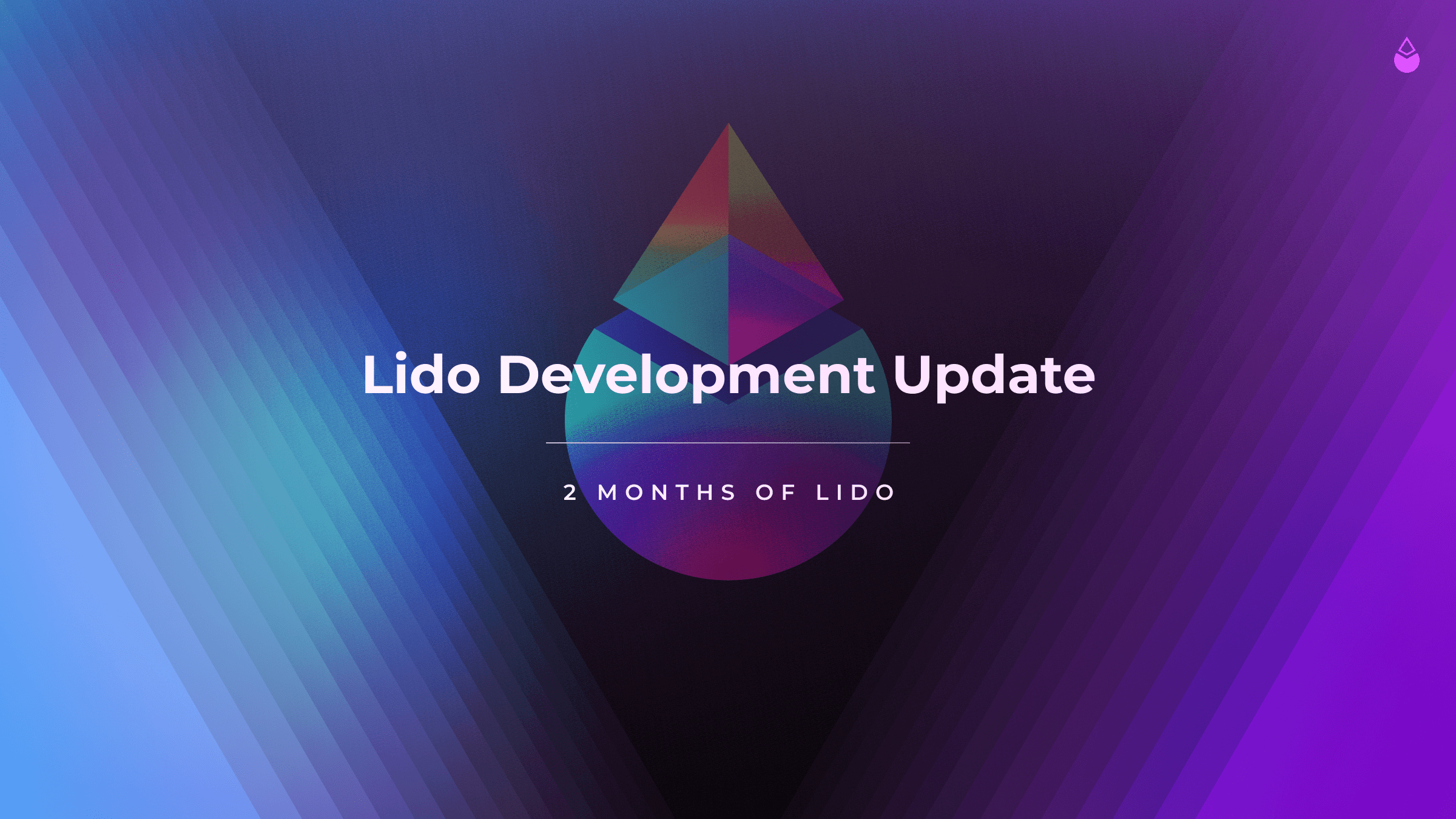 It's now been two months since we launched liquid staking with Lido.
When you stake your Ethereum with Lido you receive an equivalent amount of stETH which acts as your staked ETH balance. Your stETH balance changes daily - at 12pm UTC - to reflect your staking rewards and earnings. Using stETH, Lido allows you to unstake your Ethereum at any time, as well as use your staked ETH across other DeFi protocols - Yearn, Curve, 1inch, to name a few - for additional yields.
Staking
Over the last 30 days:
The total staked with Lido is now 180,998.68 ETH, with a total USD value of $302,917,583.71. This is up 136.29% from month 1 (76,600.35 ETH) and further cements Lido's position as the leading liquid Ethereum staking solution.
3,361 stakers are now using Lido to stake their Ethereum, up 85.07% from month 1. The average amount of ETH staked per user is 52.02 ETH.
This month Lido has paid out 327 stETH in staking rewards, bringing the total rewards up to 353.6 stETH.
At the time of writing, approximately 5.65% of all staked Ethereum is staked using Lido. Looking at the last 30 days however, more than 20% of all staked ETH was staked with Lido.
Two Dune Analytics dashboards were created to cover Lido - Lido Finance created by @k06a and Lido Finance Extended created by @_vshapovalov. Both of these complement the existing Lido Nansen dashboard which has expanded to include coverage of DAO votes.
This month, 17,000 ETH (~30 million USD) was staked with Lido in one transaction, representing the largest single transaction using Lido.
We added a disclaimer on the stake.lido.fi website where users could be easily directed to exchanges where a premium may be gained when staking with Lido.
A hackmd.io page was created by @_vshapovalov detailing the possible specifications for Lido withdrawals.
Integrations
A fundamental mission at Lido is to remove the need to choose between Ethereum staking and DeFi. Through integrations with key protocols and applications throughout the DeFi space, we're allowing stakers to put their staked Ethereum to use to further support the Ethereum community and help grow its use-cases.
We are incredibly proud of the wide range of integrations which already exist - just two months in - and we look forward to building on this initial success.
On February 2nd we helped launch a 'Quadro Farming' initiative for stETH/LDO liquidity providers together with the 1inch team. This initiative allows LPs to earn rewards in up to four different ways: in 1inch, trading fees, stETH and LDO, to further facilitate the liquidity of stETH and LDO tokens. In case you missed it, check out our Guide to 1inch 'Quadro Farming'. In line with this initiative, the Lido DAO approved a vote to allocate 250,000 LDO to 1inch Farm LPs.
Two weeks ago LDO was added to the SushiSwap Onsen menu allowing users to earn up to 25% APY for providing LDO/ETH liquidity. Onsen is a secondary product launched by SushiSwap in order to initiate liquidity mining incentives on their platform to further improve market efficiency and stability. Check out our 'Guide to SushiSwap Onsen' to get started.
stETH was added to Harvest Finance allowing LPs to earn up to 35% APY in return for providing CRV/stETH liquidity. Harvest Finance is a DeFi platform providing users with the highest yields available across the most innovative DeFi protocols, optimising yields through use of the latest DeFi farming techniques. To get set up on Harvest Finance, visit harvest.finance.
Lido has partnered with Unslashed Finance, a novel blockchain-based insurance protocol, to insure more than $250 million worth of staked ether. This protects Lido stakers against up to 5% slashing, significantly mitigating one of the primary risks associated with Ethereum staking.
A vote was passed to continue Curve ETH/stETH LP rewards for another 30 days, until March 12th. In line with this, 500,000 LDO were allocated to Curve LPs as incentive.
DAO
This month we launched a Lido Snapshot forum intended to function as a signalling platform to determine proposal sentiment prior to launching on-chain votes. So far Snapshot has been used to vote across a number of topics including:
In February we also introduced the Lido DAO Treasury Fund - a fund intended to develop and upgrade the Lido protocol to solidify our position as the leading liquid Ethereum staking solution. Use-cases for the treasury fund include insurance fund, development grants / gitcoin grants, salaries and compensation, legal requests, research inquiries with other protocols and much more. For a breakdown, check out: Lido DAO treasury fund.

Lido participated in a MakerDAO Collateral Onboarding call to make the case for the use of stETH as collateral across Maker. As an extension of this, stETH was greenlit as collateral and the onboarding process has begun. Track the vote status here.

We launched the "Lido Node Operators Sub Governance Group", a group of existing founding node operators operating as consultants tasked with aiding in determining the addition of new node operators with Lido.

A number of new proposals were voted upon over the course of the last month:
Proposal #40: Set the maximum number of validators to stake for the node operator #1 to 1000
Proposal #41: Node Operators Registry: Add node operator named Everstake.one with reward address 0x3D5A…B97F and staking limit 0.
Proposal #42: Allocate 250,000 LDO to liquidity providers on LDO/stETH pair on 1inch exchange:
Proposal #43: Create a new payment of 5000000 LDO to 0x753D…1709 for 'Incentives for stETH/ETH Curve LPs'.
Proposal #44: Create a new payment of 50000 LDO to 0x2Ca7…5CF4 for 'Purchase for slashing insurance'.
Proposal #45: Set the maximum number of validators to stake for the node operator #2 to 2000

All active and past votes can be tracked via mainnet.lido.fi.
Community
We launched the Lido Ecosystem page to track all DeFi, Wallet and Exchange integrations for both Lido and stETH. Think of any that are missing from the page? Tweet us and let us know.
We had the honor of stopping by Zapper TV to discuss all things Lido - specifically breaking down various liquidity initiatives and doing a walkthrough of how to add stETH liquidity to Curve. Watch the full show here:
The Month Ahead
Completion/adoption of stETH as collateral in Aave and Maker.
Further integrations: Proposal of stETH as collateral in Cream and Compound.
Many integrations and developments have been achieved this month with Lido, and many more are to come in the following months. We are expanding our reach to more teams and to more protocols which will help push the respective protocol and Lido forward, creating new innovative ways stETH may be used in the DeFi ecosystem.
If you would like to share any of your ideas, questions, or concerns please visit research.lido.fi.
Resources