Additions to Ethereum Node Operator Set - Wave 3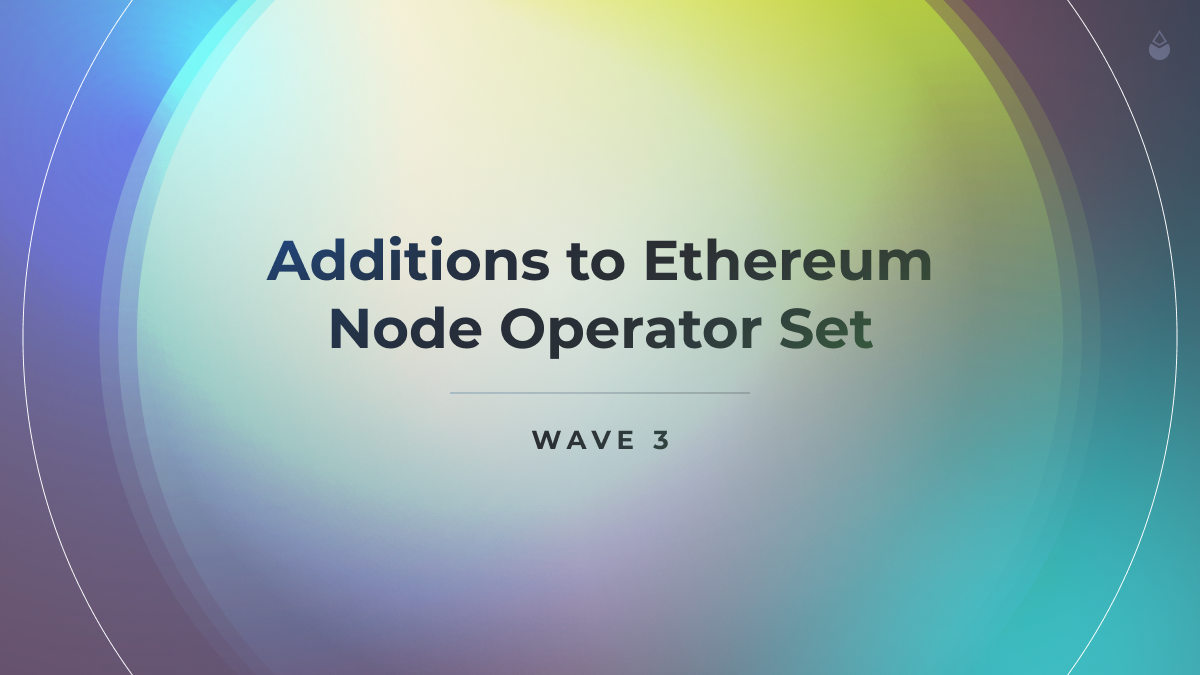 The DAO has approved 8 new Node Operators for Lido's Ethereum set and mainnet onboarding is being finalized in the coming days.
Continuing along the journey towards trustless staking on Ethereum, Lido conducted an open onboarding application and evaluation round in November and December of 2021 for the inclusion of additional Node Operators into its Ethereum operator set.
Following the evaluation of 23 applications by the Lido Node Operator Subgovernance Group (LNOSG), a cohort consisting of 8 operators was shortlisted and sent to the DAO for approval, which was finalized and approved via snapshot on December 14th 2021. Given the the very strong showing of the applicants this round, this is the first time that the LNOSG felt comfortable proposing this many operators at once. More information about the application and evaluation process can be found on Lido's forum.
Mainnet Onboarding & Cohort Details
Following the DAO's approval, these eight operators have been participating on the Lido testnet and preparing to join the other mainnet operators. Once the Aragon vote for the registration of our new eight operators has passed, the operators will be a part of the mainnet set. Below you can find a description and statement for each of the operators joining our Ethereum set (listed in alphabetical order).
BridgeTower Capital is a Blockchain infrastructure and services company running high-quality Validator Nodes with maximum reliable uptime. BridgeTower is operating high-quality staking infrastructure in Switzerland with 100% renewable energy.

We are thrilled to join Lido with BridgeTower's strategically located Swiss staking and node operations. Lido's ascension in the space has been impressive. BridgeTower has followed a similar path, quickly becoming a leading operator of highly scalable staking infrastructure supporting a large portfolio of blockchains around the world. BridgeTower has boldy built a team of technology experts shaping the backbone of Web 3.0 and the future of decentralized finance.
   



ChainLayer operates some of the most successful proof of stake networks in the world. We maintain the highest possible standards to achieve healthy consensus and fast, secure, and accurate oracle data. We are very excited to join the Lido node operator set.
   



Codefi Staking is an institutional ETH staking platform that enables crypto funds, exchanges, and family offices to achieve optimized staking rewards. Codefi Staking is powered by ConsenSys, the engineering and infrastructure leader at the forefront of the Ethereum blockchain ecosystem.

Lido is a significant player within the Eth2 ecosystem. We are thrilled to partner with Lido to support decentralized retail staking alongside our institutional offering, and further contribute to Ethereum protocol development.
   



HashQuark is one of Asia's largest staking service providers that runs over 50 nodes including Ethereum, Polakadot, Solana, and more! It is a product under HashKey Group, a strategic partner of Wanxiang Blockchain Labs & Wanxiang Holdings — a top 500 company in China. It provides blockchain services through various wallet types (hot, cold, multisig), cross public & private cloud deployment, and a 24/7 security team. It is backed by Qiming Venture Partners which is known as an early investor of Xiaomi and TikTok creator ByteDance.

So excited to join Lido. The move by HashQuark has truly demonstrated our shared goal for providing secure and high-quality staking service to clients in a collaborative manner.
     



Founded in 2018 with offices across three countries and two continents, InfStones is the world's leading blockchain infrastructure provider. InfStones team is dedicated to bringing down the barriers to connecting with the blockchain, allowing clients to quickly build their applications on a large variety of blockchain networks. Currently, InfStones provides services to institutional clients around the globe, supporting tens of thousands of nodes on more than 50 major blockchains.

InfStones is proud to join Lido as an Operator to contribute to the network's security. We believe Lido is an essential part of the ETH 2.0 ecosystem as it allows the network to achieve a high staking rate while providing otherwise illiquid staked assets to be utilized within the ecosystem. We look forward to contributing more to the Lido ecosystem beyond ETH 2.0!
   



Simply VC is a blockchain service provider operating out of Malta, comprising of various teams. The Simply Staking team within the group operates validators on 28 Proof of Stake networks, provides support to both startups and major Web3 players, and powers DeFi as a Chainlink oracle node operator across most EVM chains. We believe that decentralised public infrastructure requires a set of independent, geographically distributed validators operating their own private infrastructure. To this end, the group operates infrastructure out of its own Tier 3 datacentre, with various backup sites across the globe, and a policy against the use of cloud providers.

We are proud to be onboarding onto Lido Ethereum protocol, bringing years of blockchain experience, reliability, and jurisdictional and infrastructural diversity, with the overarching goal of further decentralising and securing the existing node operator pool.
   



Stakely is a professional non-custodial staking platform established as a new generation of node operators for blockchains of the Web3 ecosystem operating nodes in highly-secure cloud environments with a 24/7 monitoring and alerting system. Stakely has been designed to be highly intuitive and easy to use, as well as its tools. The intuitive interface, projects' documentation, and tutorials allow users to stake easily, allowing them to understand how assets are delegated, and breaking the traditional scheme by educating them while they stake. Therefore, this confirms its commitment to trust and transparency, promoting the mass adoption of the crypto and blockchain ecosystem. The values mentioned above are shared by Lido, both of which are committed to making staking easier and insuring users maximize profits from their stakes.
   



Stakin is a non-custodial infrastructure provider for Proof-of-Stake blockchains. Stakin serves institutional crypto players, foundations, custodians, exchanges as well as a large community of individual token holders. The company provides services on 30+ blockchain networks including Ethereum, Cosmos, Solana, Polygon, Polkadot, Near and more.

We are very excited to join the Lido Ethereum node operator set alongside leading blockchain infrastructure providers. We believe that decentralized staking pools such as Lido are an important building block in ensuring the long-term decentralization of Ethereum. We look forward to educating the community on the benefits of liquid staking, and to contributing to Lido's decentralization and success.
Future Onboardings
Given the growth of the Lido protocol on Ethereum, we anticipate that another onboarding round will take place some time in Q2 2022.
Stay tuned for news in the near future regarding onboardings for our Solana and Terra operator sets!