Bringing The Lido Referral Program to Solana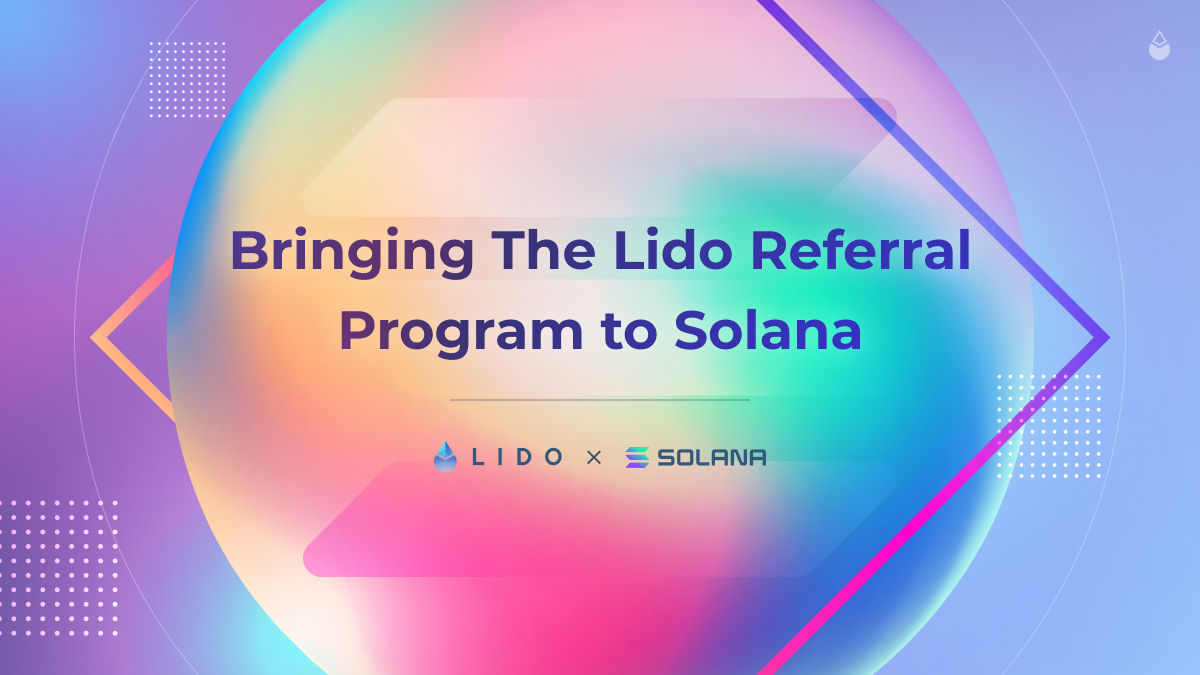 Earn rewards by driving the growth and decentralisation of the Solana network
We are excited to announce the expansion of Lido's referral program to the Solana network!
The goals of the Lido Referral Program on Solana are to boost Lido growth on Solana by integrations with top wallets/protocols and contribute to the decentralisation of the Solana network through spreading your stake across a diversified pool of quality validators.
Additionally, our objective is to make Solana staking as effortless as possible, letting users stake directly from the comfort of their preferred wallets whilst collaborating with DeFi protocols to make stSOL a base layer of the Solana ecosystem.
How does it work?
Whitelisted referrers can use the Solana Referral Program to earn rewards for driving referrals towards staking Solana with Lido.
By having referrals hold a minimum of 10 stSOL in any supported way (including LP tokens and collateral) for at least 50 days, participants will earn a 1% payback from the staked amount allocated for the 50 days of holding the full amount.
The SOL referral reward is calculated dynamically from a sliding window median of stSOL held throughout the 50 day period. Rewards are distributed  to referral accounts monthly, with total rewards being limited by the Lido Referral rewards pool.
Our referral program is easy to use and designed to benefit builders, content creators, wallets, protocols, exchanges and more, in just a few clicks.
1. Become a Lido Referral Partner
Post a message in the 'Referral Program Whitelisting' thread on research.lido.fi, or by filling out the application form, with background info about you, your platform and how you wish to make use of the referral program.
2. Share your unique staking link
When you become a referral partner you are given a unique referral link which you can use to share with your users, followers or friends. Share this link to earn LDO referral rewards.
3. Claim your rewards
Watch your rewards grow and claim them every 30 days. Rewards are distributed on a monthly basis and can be claimed effortlessly.
Becoming a Referral Partner
Only whitelisted partners can participate in the Referral Program and earn rewards (ideal candidates are wallets/protocols with reputation, volume and an active user base).
If you'd like to join or propose a candidate please apply for whitelisting by posting a message on the Lido DAO governance forum on this thread providing a platform name, short description, Solana address for whitelisting or by filling out the following application form.
For more information, refer to our 'Solana Referral Integration Guide'.
Terms & Conditions
A number of terms and conditions apply to ensure the program benefits stSOL holders. Read the full terms & conditions here.