Additions to the Lido on Solana Node Operator Set - Wave 2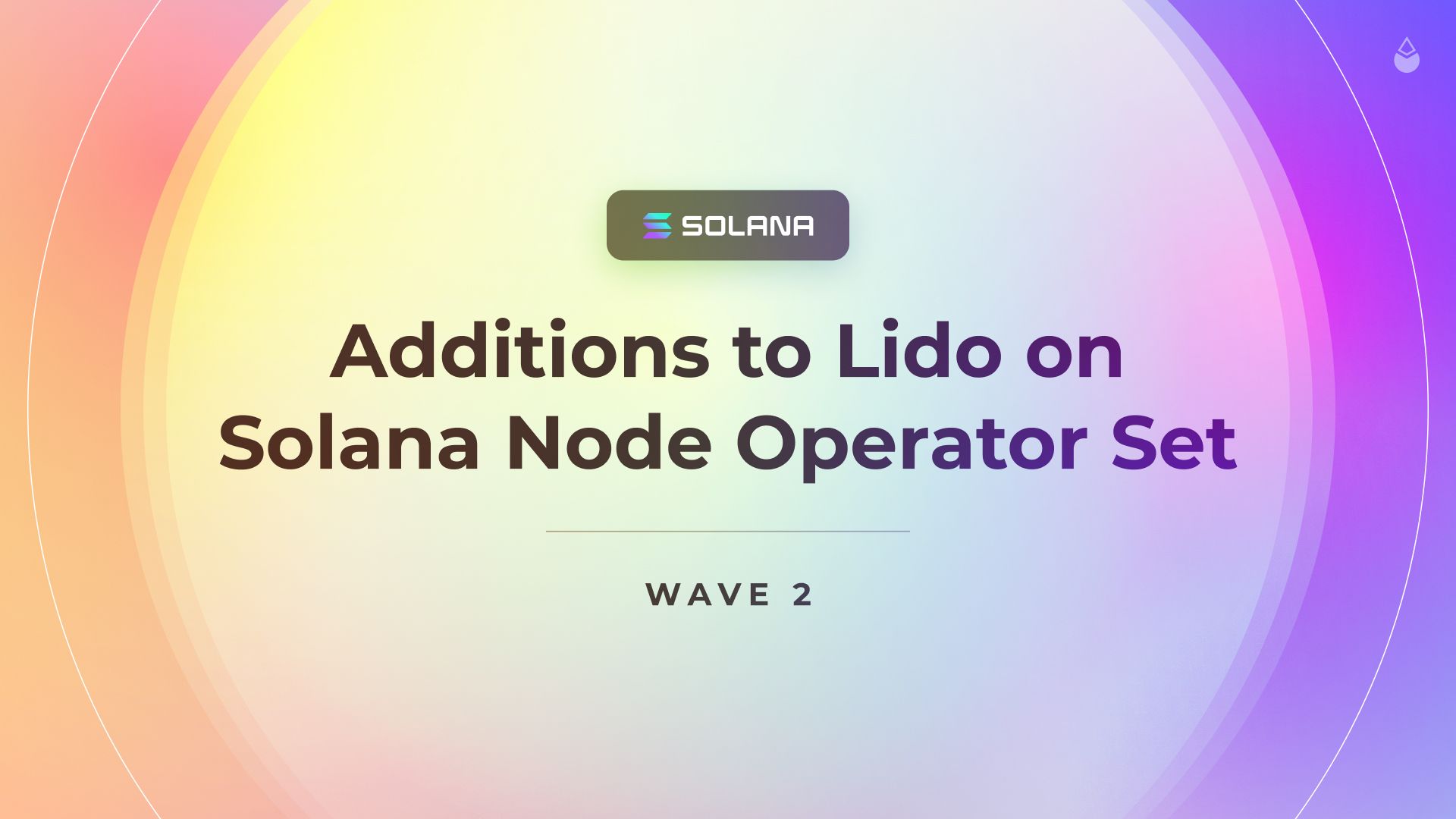 The DAO has approved 5 new Node Operators for the Lido on Solana operator set with mainnet onboarding underway.
As part of Lido's continued effort to decentralize the Lido on Solana protocol, Lido conducted an open onboarding application and evaluation round beginning in May  2022 for the inclusion of additional Node Operators into the Lido on Solana operator set.
Following the evaluation of 45 applications by the Lido Node Operator Subgovernance Group (LNOSG), a cohort consisting of 5 operators was shortlisted and sent to the DAO for approval, which was finalized and approved via snapshot on July 12th 2022. Due to continued adverse market conditions, the depressed price of SOL, and slow pace of deposit inflows, the LNOSG proposed that onboarding a smaller than originally planned cohort was more appropriate at this time. More information about the application and evaluation process can be found on Lido's forum.
These five operators have begun the mainnet onboarding process and will be active members of the Lido on Solana operator set in the coming days.
Bringing New Operators to the Solana Ecosytem
During the Wave 2 evaluations, the LNOSG determined that a small onboarding round should be performed for operators interested in joining the Solana ecosystem with the help of Lido. This intention demonstrates Lido's focus around the core principles of the Lido Operator Set Strategy, specifically working to increase the robustness, reliability, and decentralization of the underlying protocols on which Lido operates. As a result, a smaller onboarding round of operators with no mainnet nodes will be conducted over the coming weeks with the goal of expanding validator diversity (which the DAO can choose to ratify or not).
Below you can find a description and statement for each of the operators joining our Solana Operator set (listed in alphabetical order).
01node is a high quality staking and validation service provider. We have the expertise and time tested infrastructure as a highly secure and reliable validator. Our track record shows this reliability, We place a high priority on security and guarantee the best practices for each service we provide. With our physical infrastructure consolidated in tier-3 datacenters, we strive to offer the highest performance and dependability.
We are a team of highly skilled and dedicated professionals with decades of experience in the fields of software development, IT infrastructure, cryptography, and financial services.

We are thrilled to be a part of the Lido node operator community and look forward to strengthening the Lido ecosystem.
Allnodes is the leading Web 3.0 infrastructure and service provider. With its top-tier institutional infrastructure Allnodes supports over 50 cutting-edge blockchain networks that provide a user-friendly, secure, and scalable node management software and infrastructure that drives the blockchain economy. Because of our technical depth, we are able to ensure uptime and round-the-clock coverage for the most demanding blockchain-related use cases across the major and emerging protocols.

We are firm believers in Solana's technology since it can reshape the business world by allowing consumers to transact directly with merchants, eliminating banks and other intermediaries. Furthermore, Lido provides yet another efficiency level for the network by bringing decentralization into a prominent position and facilitating participation in the broader web3 economy. We at Allnodes want to be a part of this movement and contribute to this cause.
Kiln is the leading enterprise-grade staking platform, enabling institutional customers to stake assets, and to whitelabel staking functionality into their offering. Our platform is API-first and enables fully automated validator, rewards, and commission management.

The Kiln team is very excited to join the Solana Node Operator Set, contributing further to the Lido ecosystem and vision in addition to our participation in Ethereum staking since the first wave.
Stakewithus is a secure staking infrastructure provider for leading Proof-of-Stake protocols. The company has been in operation since early 2019 and is the only staking provider in the world to be backed by a government fund. The team comprises of engineers and specialist who are highly passionate about contributing to Web3. We believe in a collaborative multichain future.

Solana has emerged as one of the platform winners with increasingly strong developer mindshare and a focus on usability. We are excited to join the Lido Solana node operator set to support the ecosystem.
Stakin is a non-custodial infrastructure provider for Proof-of-Stake blockchains. Stakin serves institutional crypto players, foundations, custodians, exchanges as well as a large community of individual stakers. The company provides services on 30+ blockchain networks including Solana, Ethereum, Cosmos, Polygon, Polkadot, Near and more.

We're thrilled to join as a Lido operator for Solana, a blockchain we've been running infrastructure on since its early testnets in 2020. To contribute to decentralization, the dedicated validator will be running on a bare-metal server in a low-concentration data center. We look forward to providing a reliable and secure infrastructure for Lido on Solana and growing the Solana liquid staking ecosystem.

Future Onboardings

We anticipate further onboarding rounds in the near term (within Q3) on Ethereum (shortly following the merge), Polygon (shortly following our upgrade to v2), and Solana (likewise following the upcoming upgrade). Stay tuned to our forums and communication channels for more information!